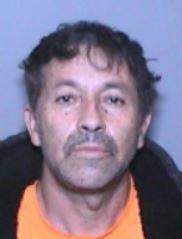 SAPD Detectives Arrest Child Molestation Suspect – Believe There May Be Additional Victims

Suspect: Jesus Heras Garcia (55)
On December 4, 2018, Santa Ana Police investigated child molest allegations involving three sisters that claimed they were sexually molested by Jesus Heras Garcia, 55 years-old, when they were between the ages of seven to eleven years-old. The victims, now in their late teens to mid-twenties, met Garcia through their church. Garcia was a volunteer at the Casa de Vida Church in Corona and a close family friend to the victims. All of the victims said the abuse occurred away from the church.
Special Crimes detectives identified two additional victims that reported being abused by Garcia. In 2010, a 16 year-old girl reported the abuse to the Placentia Police Department. The abuse was reported to have occurred at Garcia's home.
In 2018, a fifth victim, now 21, said she was sexually abused on multiple occasions when she was about 7 years-old at Garcia's home in Riverside. Garcia was also a close friend to the victim's family, which he met through the church.
Santa Ana Police detectives interviewed all five victims and through the investigation, were able to obtain additional incriminating evidence. Jesus Garcia moved to Las Vegas in 2012 and detectives obtained a warrant for his arrest.
Santa Ana Police detectives requested assistance from the U.S. Marshals Sex Offender Predator Apprehension Team in Las Vegas who located and arrested Garcia. Garcia was extradited to California and is being held at the Orange County Jail on $2,000,000.00 bail.
Jesus Garcia volunteered at the church and had access to many potential victims. Detectives have credible information that there are additional victims that have not reported the abuse. Police are asking anyone with information to contact Detective Nick Vega at 714-245-8368, nvega@santa-ana.org or Orange County Crime Stoppers at 1-855-TIP-OCCS.