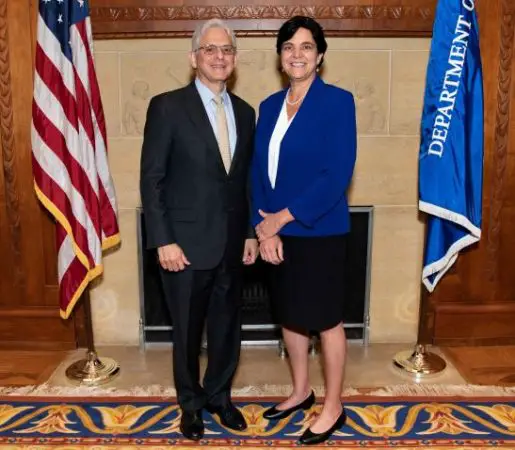 The Justice Department announced that Rosie Hidalgo was sworn in today as the Director of the Office on Violence Against Women (OVW). As director, she will spearhead the Department's principal efforts in confronting gender-based crimes. OVW provides federal leadership in developing the national capacity to reduce violence against women and administer justice for and strengthen services to survivors of domestic violence, dating violence, sexual assault, and stalking, and oversees more than $700 million annually for grant programs authorized under the Violence Against Women Act (VAWA).
The Senate confirmed Hidalgo on July 11 in a bipartisan vote, making her the first Senate-confirmed director to lead OVW since 2012. Hidalgo's career, spanning over 25 years, has been dedicated to eradicating gender-based violence. Her work as a public interest attorney, national policy advocate, and more recently as a White House advisor, culminates in her new role leading OVW. Before her current appointment, Hidalgo served as a special assistant to President Biden and senior advisor on gender-based violence at the White House Gender Policy Council. She also previously held a position at OVW as Deputy Director of Policy from 2014 to 2017.
"I am proud to swear in Rosie Hidalgo as the first Senate-confirmed Director of the Justice Department's Office on Violence Against Women in 11 years," said Attorney General Merrick B. Garland. "This is a historic affirmation of the Department's commitment to reducing gender-based violence, supporting survivors, and holding perpetrators accountable. Rosie has both the experience and the dedication to lead the Office's essential work of protecting women, girls, and all those affected by domestic violence, dating violence, sexual assault, and stalking. I am confident that her return to the Department will further that crucial mission."
"The Office on Violence Against Women is vital to implementing the Violence Against Women Act and providing leadership in combating domestic violence, sexual assault, and stalking," said Deputy Attorney General Lisa O. Monaco. "Rosie's leadership of OVW will strengthen those efforts and build on the Department's commitment to meeting the needs of survivors of sexual violence."
"Rosie Hidalgo has been a champion for survivors for years. Her experience and passion make her ideally suited to lead OVW, which has been steadfast in its mission to deploy the resources and tools communities need to address the needs of survivors," said Associate Attorney General Vanita Gupta. "Rosie's track record of working diligently to support survivors of gender-based violence, and in particular, survivors from underserved and historically marginalized communities, makes her an ideal leader for OVW."
"I am honored to have this opportunity to join colleagues at the Office on Violence Against Women and the Department of Justice to help advance our nation's commitment to preventing and addressing domestic violence, dating violence, sexual assault, stalking, and other forms of gender-based violence," said Director Rosie Hidalgo. "The renewal and strengthening of the Violence Against Women Act last year, along with increases in VAWA funding, enable us to enhance access to safety, justice, and holistic services for survivors, and support efforts to strengthen and broaden the coordinated community response."
Hidalgo is also a former senior director of public policy for Casa de Esperanza: National Latin@ Network for Healthy Families and Communities, a national resource center with a focus on providing training, research, and policy advocacy to prevent and end domestic violence and sexual assault. Her public service work includes a detail to the Office of the Vice President during the Obama administration, working with the White House Advisor on Violence Against Women. She also served on the Biden Foundation's Advisory Council for Ending Violence Against Women and on the American Bar Association's Commission on Domestic and Sexual Violence.
She is a graduate of Georgetown University and the New York University School of Law.