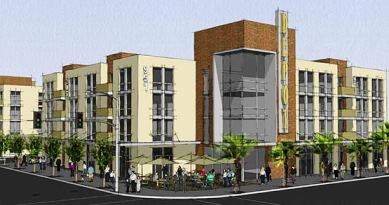 Santa Ana's Planning Commissioners were tasked this year with filling out disclosure forms when they talk to stakeholders about pending development projects. That is a reasonable request given how easy it would be for the Planning Commissioners to engage in monkey business.
The good news is almost all of the Planning Commissioners have acquiesced to this mandate. The bad news is that Phil Bacerra, the Planning Commissioner appointed by Santa Ana Councilman David Benavides, has reportedly refused to fill out the disclosure forms.
This came to light recently when Bacerra apparently worked both sides of the debate with regard to the upcoming Depot Affordable Housing units that will be located across from the Santa Ana Train Depot.
What a city insider told me was that Bacerra told the residents of the Logan Neighborhood that this Depot project was going to feature overpriced high-end retail stores, on its bottom floor.  But then he turned around and told residents of the high-end Santiago Lofts that the development was going to feature low-end businesses.
In the end a huge crowd showed up as the Planning Commission was set to vote on the development.  Bacerra was rebuffed as only one other Planning Commissioner, Bruce Bauer, joined him in voting against the affordable housing project.
Bacerra reportedly compared the Depot Project to Chicago's notorious Cabrini-Green Projects, prompting the Chairman of the Santa Ana Planning Commission, Eric Alderete to say that Bacerra's comments were racist.
Bacerra wasn't the only one making racist comments at this meeting.  Many of those who showed up to complain said horrible things, moving Planning Commissioner Sean Mill to respond, as reported by the O.C. Register:
Others said the affordable-housing project would not bring "quality" tenants to the area.

That drew a response from Commissioner Sean Mill.

"They're bringing a high-quality project that happens to be affordable housing," he said. "I'm always disappointed when the discussion gets sideways and folks think that because it's affordable housing, that the people that are going to live there are somehow less than the rest of us."

Developer C&C Development has a track record of creating successful affordable-housing projects in the city, including the recently completed Terraces at Santiago, a 36-unit project in the 600 block of East Washington Avenue, a couple of blocks from the Depot at Santiago site.

"They don't build apartment complexes. They build communities," Mill said.
While it was pretty obvious that Bacerra had engineered the turnout at this meeting, he did not turn in any disclosure forms.  We might have to turn in a public records request to see if Bacerra used his city-provided email address to reach out to the residents.
You can read a very one-sided account of the Planning Commission meeting here and a hysterical letter to the City Council by one of the Santiago Lofts residents here.
Santa Ana is woefully short on affordable housing so I am personally glad to see this project moving forward.  And I am hearing great things about the retail component to the project, which will include operations that will help the residents to keep advancing up the socio-economic ladder.
We opposed Bacerra's appointment to the Planning Commission because he had been a paid consultant to Downtown Inc., a non-profit that used a property assessment to fund marketing efforts in Downtown Santa Ana.  Bacerra personally advanced a crazy plan to allow bars to stay open to 4 am.  Councilman Benavides was the only Council Member to support that nutty scheme, which failed.
Benavides ran for Mayor of Santa Ana, unsuccessfully, in 2012 on a platform that included a call for more transparency.  Shouldn't his Planning Commissioner, Bacerra, support that call for transparency by filling out his disclosure forms?