Supervisors Increase Reward for Information on Jail Escapees
The Orange County Board of Supervisors approved increasing the reward for information leading to the apprehension of three escaped inmates from the Orange County Men's Central Jail to a total of $200,000.
Board members unanimously approved adding up to $50,000 each for information leading to the capture of inmates Hossein Nayeri, 37; Jonathan Tieu, 20; and Bac Duong, 43, who escaped from the jail sometime on Friday, January 22, 2016. The U.S. Marshals Service already has pledged $10,000 each for information on the three inmates while the Federal Bureau of Investigation contributed another $20,000.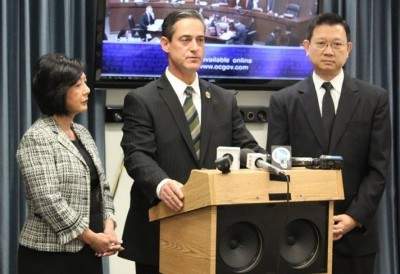 "These criminals pose a severe public safety risk to the community and they need to be apprehended as soon as possible. Anyone with information on their whereabouts is encouraged to report it to the authorities or to call the hotline immediately," said Board Chairwoman Lisa Bartlett, Fifth District. Anyone with information is asked to call the Orange County Sheriff's Department tip line at (714) 628-7085 or the OC Crimestoppers tip line at (855) TIP-OCCS or (855) 847-6227. All information will be treated as confidential.
Supervisor Todd Spitzer, Third District, made the motion for the additional funds after consulting with Orange County Sheriff Sandra Hutchens on an appropriate amount. "We want to get the attention of the public to encourage cooperation and leads that will result in the apprehension of these dangerous felons," Supervisor Spitzer, Third District, said. "The public's safety is our most important priority."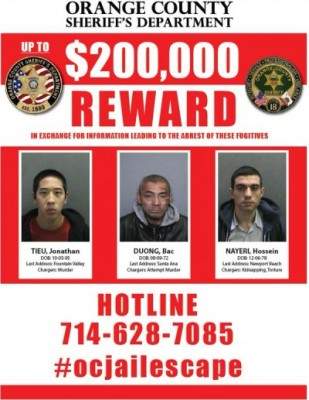 About 250 law enforcement officers are actively searching for the men, who are believed to be armed and extremely dangerous.
###