The Orange County Sheriff's Department's Bomb Squad used a robot to examine the suitcase that was left at 1300 North Grand Ave. today, just north of the 5 Freeway, according to the O.C. Register. The suitcase was suspected to be a bomb as it had wires sticking out of it.
The Bomb Squad's robot took a photograph and x-ray of the suitcase, at around 10:30 a.m., before returning to three nearby deputies to be examined.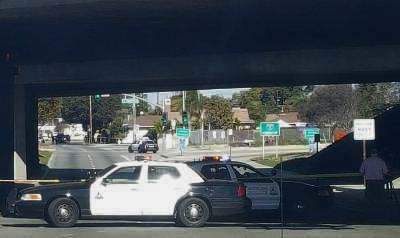 The robot then moved the suitcase to a nearby grassy area and used a mechanical claw to open the case just after 10:50 a.m.
When the robot opened the suitcase, by twisting its arm, a black box fell to the ground. Officials then determined that the object was not an explosive.
North Grand Avenue was reopened to traffic at around 11:30 a.m.
You have to wonder if this was a ruse by the three inmates who escaped from the O.C. Central Men's Jail a few days ago. If so it probably worked as all the cops in town were at the site of the bomb scare for quite some time.