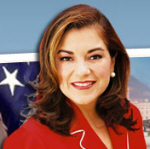 *** MEDIA ADVISORY ***
SANCHEZ TO LEAD GRANTEE AWARDS TOUR ON FRIDAY
Washington, D.C. – On Friday, October 7, at 12:30 p.m. PST, Congresswoman Loretta Sanchez (CA-47) will lead her first grantee awards tour with visits to three Orange County organizations that have recently received significant and competitive grants from the federal government. Rep. Sanchez will visit Santa Ana College, the Santa Ana Unified School District Police Department, and Orange County Head Start to congratulate them on their awards.
Friday, October 7
12:30pm-1:30pm: SANTA ANA COLLEGE AND CAL STATE FULLERTON CELEBRATE $1 MILLION STEM GRANT FOR 5 YEARS
Location: Santa Ana College
Tessmann Planetarium, Building M
1530 W. 17th Street, Santa Ana 92706
1:30pm-2:30pm: SANTA ANA UNIFIED SCHOOL DISTRICT CELEBRATES $500,000 COMMUNITY POLICING GRANT
Location: Santa Ana High School Main Auditorium
520 W. Walnut St.Santa Ana 92701
3:00pm-4:00pm: O.C. HEAD START CELEBRATES $1 MILLION GRANT
Location: Orange County Head Start Topaz Center
1600 Sapphire Road, Fullerton 92831
Congresswoman Loretta Sanchez is proud to represent California's 47th Congressional District, which includes the cities of Anaheim, Garden Grove, Santa Ana, and parts of Fullerton in Orange County. She serves as Ranking Member of the House Armed Services Subcommittee on Strategic Forces and a senior member of the Committee on Homeland Security. Rep. Sanchez is also a member of the fiscally conservative Blue Dog Coalition and sits on the bipartisan, bicameral Joint Economic Committee.
# # #