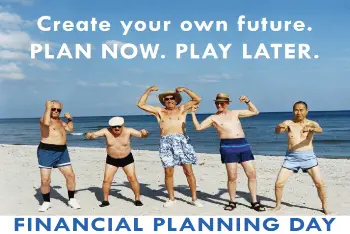 Financial Planning Association® – Orange County Chapter Partners with Brandman University in Irvine to Present Orange County Financial Planning Day" Saturday, October 8, 2011, 10:00 am – 4:00 pm
WHAT:

The Financial Planning Association® of Orange County in partnership with Brandman University will offer a free day of financial planning. Orange County Financial Planning Day will provide Irvine and surrounding Orange County residents with free financial planning advice from professional financial planners. The event will be two-pronged:
Educational workshops will be presented throughout the day by financial planning experts on a number of relevant financial topics.
Professional planners from the Financial Planning Association® and those with the Certified Financial Planner™ designation will volunteer their time and expertise to work with local residents one-on-one to address important financial issues.
Financial planners meet one-on-one with attendees to answer questions on budgeting, getting out of debt, income taxes, dealing with mortgage foreclosures, paying for college, estate planning and insurance, among many other topics. Advice will be offered on a "no strings attached" basis and planners will not give out business cards or sell financial products or services.
WHEN: Saturday, October 8, 2011, 10:00 am – 4:00 pm
WHERE: Brandman University, http://www.brandman.edu, located at 16355 Laguna Canyon Road, Irvine, CA 92618. Free parking available at the event site.
ABOUT: Orange County Financial Planning Day is organized by the Financial Planning Association of Orange County as part of a national Financial Planning Days initiative created by Certified Financial Planner Board of Standards, Financial Planning Association, Foundation for Financial Planning and the U.S. Conference of Mayors. The collaboration is effort involving city governments and thousands of financial planners nationwide united in an effort to provide free financial education and programming to communities throughout the U.S.
For more information visit www.FinancialPlanningDays.org

The Financial Planning Association® (FPA®) is the leadership and advocacy organization representing the financial planning community.
FPA's Orange County Chapter will devote its efforts to develop programs and services for its members through educational classes and seminars, regular chapter meetings, chapter and state government affairs, public relations, and public affairs. For more information visit the FPA OC Chapter at http://www.fpaocc.org. Refer to the attached FLYER for additional information.