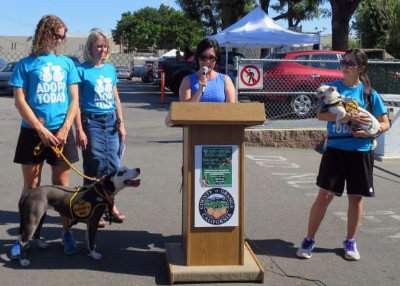 Record Adoption Numbers at OC Animal Care During Clear the Shelters Adoption Event
The totals: 147 animals adopted – 86 dogs, 54 cats and seven rabbits
(ORANGE, CA) August 18, 2015 — More than 300 pet adopters lined up as early as 6 a.m. for the chance to adopt a needy pet during the Clear the Shelters Adoption Event at OC Animal Care on August 15. The event, hosted by NBC4 Southern California and Telemundo, was a firstof-its-kind nationwide pet adoption initiative aimed at finding thousands of pets permanent homes.
OC Animal Care offered a reduced adoption fee of $17, which included spay/neuter, microchip, vaccines, flea treatment and deworming. By 3 p.m., more than 93 homeless pets had been adopted into new homes. 
The discount continued through August 17, and OC Animal Care exceeded its target of 100 pets to be adopted by the end of the event.
There were 147 adoptions: 86 dogs, 54 cats and seven rabbits.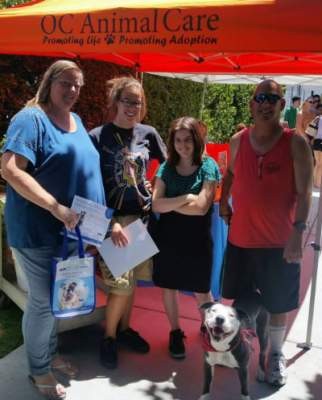 Dr. Jennifer Hawkins, director, OC Animal Care, and Lisa Bartlett, 5th District Supervisor and Board Vice Chair (pictured above), welcomed the awaiting crowd during a 10 a.m. opening ceremony at the shelter.
"Pet ownership has been demonstrated to improve physical, mental and emotional health in our residents here in Orange County," Bartlett said in her welcome speech. "So think about it; pet ownership equals happy healthy residents. It's a win-win all around! I encourage you to  adopt and care for one of the many homeless pets here at OC Animal Care today and spread the
word to others of the benefits of pet ownership and the animal-human bond."
Visit the OC Animal Care website to learn more about pet adoptions and other services provided by the agency.
# # #
Contact: Katie Ingram, 714-796-6413, katie.ingram@occr.ocgov.com