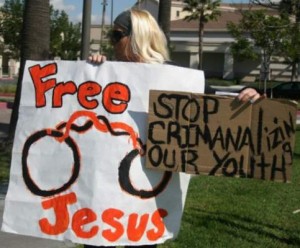 There are two rallies coming up on Santa Ana on behalf of Jesus Aguirre, who was arrested by Buena Park police, in March of 2010, on charges of the attempted murder of Ramon Magaña, who had been shot at with a shotgun with birdshot ammunition. Magaña, though, who suffered bruises and non-life threatening wounds, testified in court that Jesus was not responsible for the shooting. Ramon's mother and sister, who witnessed the shooting, also stated that Jesus did not participate in the crime and was not present during the incident.
The rallies are set for Thursday, September 26, 2013, at 11:30 am and at 1:00 pm, at 601 West Santa Ana Blvd., in Santa Ana.  Click here to RSVP for the first rally and here to RSVP for the second rally.
Detective James Woo and the District Attorney that handled the case stated in court that they knew Aguirre was not the shooter, but instead they continued to classify him as a gang member and argued that Jesus was present at the scene and charged him with the crime.
Prior to the arrest, Jesus had no prior felonies or "gang activities". On April 6th, 2012, Aguirre was charged as an adult and Orange County Superior Court Judge William R. Froeberg sentenced Jesus to life in prison for the "premeditated attempted murder affiliated with a gang."
Aguirre's parents have since been trying to get a re-trial of the case.
http://therebelpress.com/articles/show?id=36
!!!!!!!*******UPDATE********!!!!!!!!!!!
Oral agruments set in the court of appeal SEPT26th 2013
~~~~~AGUIRRE FAMILY CALLING FOR SUPPORT~~~~
LETS CALL THE ORANGE COUNTY DISTRICT ATTORNEYS OFFICE AND DEMAND JESUS BE GRANTED A RE-TRIAL!!!
*** ATTENTION JUDGE WILLIAM FROEBERG******
Central Felony Trial Panel 10 C40 (657) 622–5240
~~~~~~~ATTENTION o.c.d.A~~~~~~~
401 CIVIC CENTER DR
SANTA ANA, CA 92701
714-834-3600
CENTRAL OFFICE
700 CIVIC CENTER DR. W
SANTA ANA, CA 92701
(714) 834-3952
EMAILS TO:Bureau@da.ocgov.com
These city offials need to know we KNOW IT WAS WRONG TO CRIMINALIZE JESUS!!!! AND WE WANT A RE-TRIAL NOW!!!!!
~~~FREE JESUS AGUIRRE NOW~~~~~~~~~~