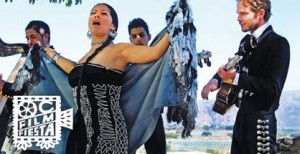 City of Santa Ana, Orange County's Downtown
Community Alert: OC Film Fiesta Kicks Off Sept. 6 on Santa Ana's Historic 4th St
Free Fest Opens With "Mariachi Gringo" Starring Lila Downs and Shawn Ashmore
SANTA ANA, CA (September 5, 2013) – The 4th Annual OC Film Fiesta opens Fri., Sept. 6 at 7pm with a free screening of Tom Gustafson's award-winning cross-cultural musical tour de force, Mariachi Gringo, at the Fiesta Twin Theatres on Santa Ana's historic 4th Street. Mariachi Gringo, which received Best Mexican Feature and Best Actress awards at the 2012 Guadalajara Film Festival, stars Shawn Ashmore (X-Men), Grammy-award winning singer Lila Downs, Martha Higareda, Tom Wopat and Yareli Arizmendi (Like Water for Chocolate, A Day Without a Mexican). Arizmendi will be present for the screening. The Fiesta Twin Theatres are located at 305-100 E. 4th St. in downtown Santa Ana.
The Film Fiesta continues on Sat., Sept. 7 with a free 1pm screening of Our Nixon, a new documentary comprised of Super 8 footage shot by H.R. Halde¬man, John Ehrlichman and Dwight Chapin that was seized by the FBI during the Watergate investigation, filed away and forgotten for almost 40 years!
Then, celebrate the 50th anniversary of Dr. Martin Luther King Jr.'s "I Have a Dream" speech with a special 3pm screening of award-winning filmmaker Kevin McKiernan's new documentary Bringing King to China, which deals with McKiernan's daughter's attempts to mount a play about Martin Luther King in China at the onset of the Iraq War. Kevin McKiernan will be in attendance for a special Q&A following the film.
On Sunday, Sept. 8, the screenings begin at 11am with great documentaries and films from local youth and community media programs, including the Santa Ana Public Library's Seeds to Trees Academy, Latino Health Access' Somos LHA program and the Film Fiesta's new OC Cinema Camp. Sunday also features John Carter, Disney's thrilling adaptation of Edgar Rice Burrough's 1917 classic novel, A Princess of Mars. Directed by Andrew Stanton (Toy Story, Finding Nemo), John Carter is fun for the whole family.
The Film Fiesta is also proud to announce the Southern California Premiere of Radio Free Albemuth, a new film based on the novel by legendary science fiction author and former OC resident Philip K. Dick, whose novels have been adapted into such films as Blade Runner, Total Recall, A Scanner Darkly and Minority Report. Director John Alan Simon will be present for a Q&A after the screening. The Film Fiesta's Science Fiction Spotlight feature a great selection of films, including the 1967 Mexican classic El Santo vs. la invasion de los marcianos; La Antena, Esteban Sapir's modern Argentine silent expressionist film; and a rare widescreen presentation of the 1984 sci fi classic The Adventures of Buckaroo Banzai Across the 8th Dimension with a special Q&A with actor Pepe Serna (Scarface, American Me, Car Wash), who plays Reno Nevada in the film.
The Film Fiesta's Indigenous Spotlight includes Apache Chronicle, a new documentary about five young, female Apache artists and skateboarders; El regalo de la Pachamama, a journey of discovery following 13-year old Kunturi and his family's llama caravan through Bolivia's Salar de Uyuni salt flats; The Thick Dark Fog, with a special Q&A with Director Randy Vasquez; and a special screening of films from Ambulante Mas Alla/Ambulante Beyond, the new indigenous media program from Gael Garcia Bernal and Diego Luna's Ambulante Film Festival.
Presented by the city of Santa Ana, PRCSA, the OC Film Fiesta is a free cinematic celebration of Orange County's multicultural heritage that runs from Sept. 6-15. Launched in 2010, the OC Film Fiesta adds to the cultural vitality of downtown Santa Ana, promotes community involvement and deepens relationships with local cultural groups, businesses, colleges and the film industry. The Film Fiesta takes place in conjunction with the annual Fiestas Patrias celebration, which occurs on Sept. 14-15 and draws 250,000 attendees to downtown Santa Ana. Screenings are free and open to the public.
For more information to request an interview, email info@ocfilmfiesta.org. The 2013 Film Fiesta Schedule, including film descriptions and trailers, is online at www.ocfilmfiesta.org.
Plan Your Trip: The OC Film Fiesta is easily accessible by Metrolink and OCTA. Get directions or plan your trip to the OC Film Fiesta using the handy links on our website!
http://ocfilmfiesta.org/4thannual/index.php/directions
Support Free Film Programs: There are four easy ways to make a difference in helping present a free cinematic celebration of Orange County's cultural diversity. Visit www.ocfilmfiesta.org to Become a Sponsor, Make a Donation, Buy an Ad in our festival program or Support our new OC Youth Cinema Camp. For partnership opportunities, please contact Film Fiesta Development Director Victor Payan at victor@ocfilmfiesta.org or 619-701-0073.
The 2013 OC Film Fiesta is presented by the City of Santa Ana, PRCSA and Produced by Pocharte with support from MX Live, Santa Ana Business Council, East End Partners, The Frida Cinema, Long Beach Cinematheque, Cervantes Publishing Company Miniondas Farandula USA, Ambulante, Ambulante Mas Alla, State Farm Insurance Eddie Quillares Agency, Arts OC, OC Community Foundation, James Irvine Endowment Fund, Heritage Museum of OC, Bowers Kidseum, Diego's Restaurant, Chapter One: The Modern Local, Quinceañera Magazine, Stay Connected OC, 1st Class Party Events, expovestido.com, OCGente.com, Mega Furniture, United Artists of Santa Ana, Latino Health Access, Green Heart Families Park and Community Center, Calacas on 4th, Santanero Zine, Voice of OC, Aztec Gold TV. Graphics by AztecGoldTV.
Facebook: https://www.facebook.com/filmfiesta
Twitter: https://twitter.com/OCFilmFiesta
Schedule subject to change.
###
Contact Information:
Sandra Peña Sarmiento, Director
619-701-0073
info@ocfilmfiesta.org
###