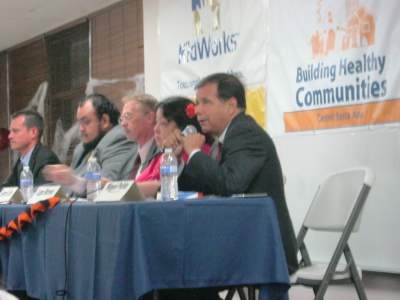 Santa Ana Mayor Miguel Pulido was in complete control at tonight's Santa Ana Mayoral candidate's forum, which was held at Latino Health Access, in Downtown Santa Ana.
Oh sure, the other candidates spent all night sniping at him – David Benavides in particular was quite petulant.
The event was billed as a youth forum and it was sponsored by the Voice of OC. I found that ironic as a Voice of OC reporter recently stalked Pulido's teenage son on Facebook.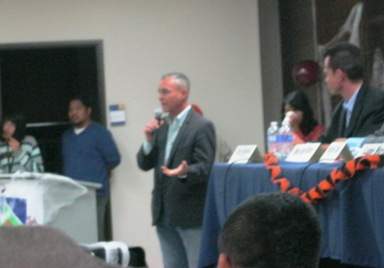 I chewed out the Voice of OC's editor, Norberto Santana, about that tonight.  He said they were reporting the news but interestingly both the O.C. Register and the L.A. Times passed on their bogus story.  How low Santana has sunk since he left real journalism to join the muckrakers at the Voice of OC.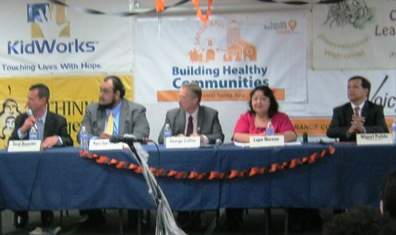 Here are some of the evening's highlights, or in some cases lowlights:
David Benavides – Said he wants to put produce trucks out of business because they sell chips and sodas to kids.  Never mind that they also sell fruit and vegetables…and that they service communities full of residents who aren't allowed to drive and as such these trucks are a great convenience…  And the truck owners are small businessmen who scrimped and saved so they could have their own business.  Once again Benavides is a job killer!
Miguel Angel Briseno – absolutely ripped the fraudulent and unfair Measure GG, which is being championed by Benavides.  Briseno said that GG should have made the mayoral terms equal to the council terms but he pointed out how unfair it is in that it limits the Mayor to 8 years while allowing the Council Members to serve for 12 years.
Lupe Moreno – the notorious Minuteman lived up to her billing.  She told the young people at the forum that she is absolutely against the Dream Act and that she is for SB 1070.  I can't believe that Benavides honored this hateful woman in 2010 after she and her Minutemen took over the Santa Ana 4th of July event!  In fact one of Moreno's Minutemen called a Santa Ana resident a wetback at that event!
George Collins – was nuttier than usual.  When asked about Arizona's racist SB 1070 law he said that immigrants are human traffickers.  Then he admitted that he imported his own wife from Peru!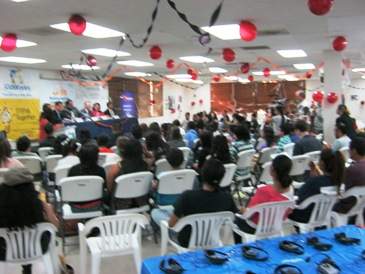 Pulido spent all night talking about his many accomplishments and the projects he has worked on that have brought so much positive change to our city.  When Benavides complained about high density apartments, Pulido had to remind him that it was thanks to Pulido that the city stopped allowing such developments.  And it was Pulido, via his work on the OCTA's Board of Directors, who played a major role in helping to expand our parks system and to improve our bike trails.
Time and again Pulido referenced the vast grants he has worked so hard to bring to our city, while all Benavides could do was use the same empty buzzwords over and over again.  The contrast was stunning.