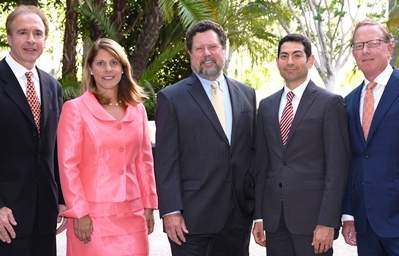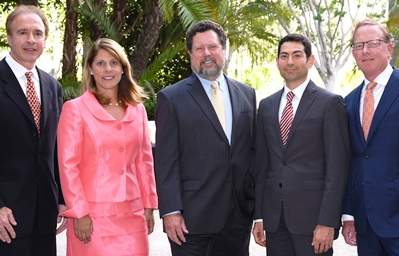 PRESS RELEASE
June 25, 2015
CONTACT: George C. Wu, gwu@veng-group.com, (202) 306-0898
PLC Raises Record Total at 2015 Volunteers for Justice Dinner
Orange County legal community raises $725,000 for civil legal aid
Santa Ana, CA – Joined by 900 leaders of the Orange County legal community, the Public Law Center highlighted the transformative impact of its pro bono programs on the county's poorest and most vulnerable residents at the Hotel Irvine Monday night. Guests at the 2015 Volunteers for Justice Dinner helped to raise a record $725,000 and were treated to a keynote address by California Supreme Court Justice Mariano-Florentino Cuéllar, a special musical prelude by Mariachi for All (a PLC non-profit organization client), and the premier silent auction in Orange County.
"Once again, our generous sponsors, committed pro bono attorneys, and silent auction winners raised the bar on supporting PLC and our clients," said PLC Executive Director and General Counsel Ken Babcock. "For every dollar raised at the Volunteers for Justice Dinner, PLC and our pro bono attorneys will provide eight dollars worth of free legal services to Orange County's low-income veterans, seniors, domestic violence survivors, children and their families," added Babcock.
PLC also presented three awards during the 2015 Volunteers for Justice Dinner. Volunteers for Justice Dinner Co-Chairs Michele Johnson of Latham & Watkins LLP and Mark Erickson of Haynes and Boone LLP welcomed Jeff Reeves, Managing Partner of Gibson, Dunn & Crutcher LLP's Orange County office to accept the award on behalf of the firm. Now a three-time Law Firm of the Year winner, Gibson Dunn previously won the award in 1995 and 2005. The Orange County office provided 2,500 hours of pro bono service to PLC clients in 2014 alone.
Deb Mallgrave of Snell & Wilmer L.L.P. presented the Attorney of the Year award to Anna Strasburg Davis for her leadership as the Director of Public Interest Programs at the University of California-Irvine School of Law. Students from UCI Law have contributed more than 40,000 pro bono hours since Davis created the program during the school's inaugural year (2009-2010).
Arnie Pinkston, former General Counsel of Allergan, helped present PLC's Corporate Partner of the Year Award to Jerry Flannery, Executive Vice President and General Counsel of Hyundai Motor America. Hyundai Motor America was honored for their commitment to PLC's Conservatorship and Guardianship Clinic at CHOC Children's.
###