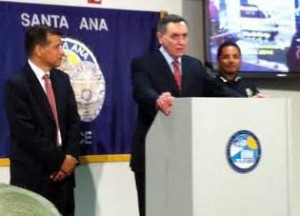 The Violence Prevention Coalition of Orange County is awarding former Santa Ana Police Chief Paul Walters an Cfor his outstanding personal commitment to the prevention of violence.
Their Ambassador of Peace Awards luncheon will take place on June 6, 2014 from 11:30 am to 2 pm, at the Promenade Turnip Rose located at 1570 Scenic Ave, in Costa Mesa.

The luncheon will honor individuals committed to preventing and reducing violence in our communities. Leaders in the field of violence prevention will be recognized for their outstanding contributions and commitment to non-violence. For further information, email Christine@vpcoc.org.
The Violence Prevention Coalition of Orange County (VPCOC) was established in 1996. It remains the only countywide affiliation of businesses, community organizations, public and private agencies, and individuals promoting violence prevention through a public health approach in Orange County, California.