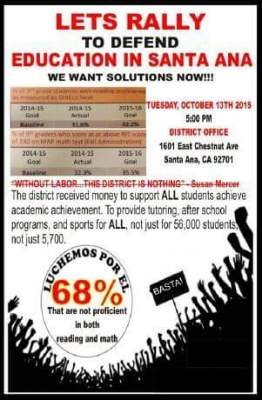 A group of parents is staging a rally at the SAUSD School Board meeting on Oct. 13, 2015, at 5 pm, at 1601 East Chestnut Ave., in Santa Ana.
These parents appear to be blaming the teachers for the district's woes.  However some of their goals are laudatory. They are calling for more tutoring, after-school programs and sports.
The crux of the argument against the teachers appears to be the money generated by Prop. 30, which is referred to as the Local Control Funding Formula.  The teachers want a raise but these parents are clamoring for the money to be spent "in the classroom."
In our opinion the teachers are the ones doing the teaching.  The problem at the SAUSD is a bloated administration that pays the Superintendent almost what President Barack Obama makes – and huge money, to the tune of $24 million dollars, blown annually on consultants.
The district is super-focused on testing and collecting data about the students instead of actually teaching them.
The biggest problem in Santa Ana is that so many of the parents don't speak English.  But when was the last time the SAUSD promoted the free English classes at Santa Ana College?
There also seems to be a growing focus at the SAUSD on providing computers to the students.  That is not going to solve the illiteracy problems – or the issues these kids have at home.  Instead this will blow millions of dollars on equipment and consultants that could be spent instead on teacher's aides and school librarians!
The SAUSD has been failing our kids for years but don't blame the teachers.  The blame lies on the administration and on the School Board.