By Supervisor Shawn Nelson
Supervisor Nelson visited Anaheim City Hall on Tuesday, August 12 to update council members and residents about the progress on the Orange County Bicycle Loop. This 66-mile trail for commuting and recreational activities is about 70% complete with only a few remaining gaps to fill along Pacific Coast Highway and the northern portion of the county.

Closing the gaps in the OC Loop would increase connectivity, expand transportation options and enhance recreational opportunities. OCTA and other stakeholders, including local cities, are working with the County of Orange on a feasibility study to close the remaining gaps. The study will provide the cities with grant-ready information to help them secure funding. Learn more about the OC Loop and the study here.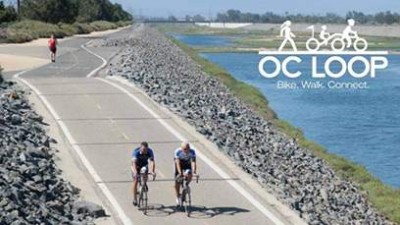 The OC Bike Loop plays a significant role in Orange County. Not only does it encourage a healthy lifestyle, but also it helps maintain and increase property values as a sought-after amenity for nearby residents. Throughout the summer, OCTA staff is presenting plans for the OC (Bike) Loop at meetings throughout Orange County.

Residing within one mile of the loop are approximately 650,000 people. In Orange County, there are more than three million residents, which creates one of the densest areas of the United States. The loop connects 200 parks, 180 schools and seventeen cities in north and west Orange County. It also provides first and last mile connections to numerous bus stops and three Metrolink stations. With minimal stops and crossings, the OC Loop is also a viable commuting route to the major employers in the area. Therefore, enhancing alternative transportation options will become increasingly necessary as the county grows.

For more information, go to www.octa.net/ocloop. Click here to view a video on the loop narrated by Supervisor Nelson. The full presentation is included below.

Please click here to view the presentation.