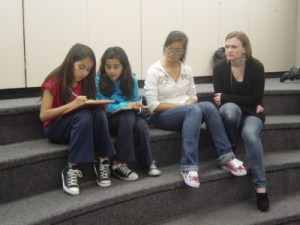 OCHSA Students Lend a Hand in Writing
Tuesday, 12/06/2011
Students from Orange County High School of the Arts (OCHSA) in Santa Ana recently began a ten week long "Creative Minds Writing Workshop" at the Santa Ana Public Library. In classes designed to teach 3rd to 6th grade children valuable writing skills, elementary students will learn about different aspects of writing, such as character development, devices for setting and plot , and how to write essays, stories, and poems. The workshop also covers the basics of different literary genres such as horror, fantasy, mystery, and comedy.
Approximately 30 high school students volunteer; mostly juniors and seniors, they divide their time between the main Library and Elementary Academy of the Arts (OCEAA). In 2010 the student volunteers began helping children improve their reading skills. This year they decided to focus on teaching writing skills to the children who come to the Library.
Joshua Wood, Assistant Director of Creative Writing at OCHSA, heads the volunteer group and is proud of the work the students accomplish. Wood chooses three students to serve as student leaders for the group and to assist with the coordination of the workshops.
"The idea originally came from a student named Julia Ostmann who had participated in a traveling story time group called 'Story Spotlight' when she was younger," Wood stated. According to Wood, one of the most exciting aspects of the writing class for the participants is when they see their written stories come to life. High school volunteers act out these stories at the end of the workshop. This dramatic reenactment of each student's story has a very positive impact as each student takes ownership of his or her creation in a very unique way.
The writing workshop is held Tuesday afternoons from 3:30 p.m. to 4:30 p.m. at the Santa Ana Public Library. For more information on how to register your child for the Creative Minds Writing Workshop, please contact the Santa Ana Public Library's Children's Desk at (714) 647-5258.