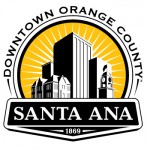 Advisory: SCHEDULED CITY HALL CLOSURE AND STREET SWEEPING SERVICES SUSPENSION
In conjunction with the anticipated City Hall closure starting Friday, December 23, 2011 through January 2, 2012, the City has decided to also suspend street sweeping services during that time. No ticketing will occur for parking in designated street sweeping areas. Street sweeping services and the designated parking enforcement will resume on January 3, 2012.
Public safety services, water-related services, the zoo and library will remain operational during the scheduled closure. Happy Holidays!
Follow us on Facebook at:
http://www.facebook.com/pages/City-of-Santa-Ana/200089073336831
Follow us on Twitter at:
https://twitter.com/#!/CityofSantaAna
For full details, view this message on the web.
Sent by City of Santa Ana, 20 Civic Center Plaza, 8th Floor/ P.O. Box 1988, Santa Ana, CA 92702