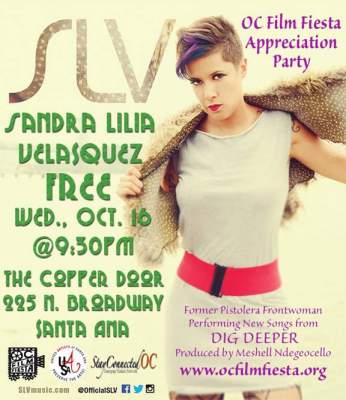 For Immediate release: October 10, 13
For more information, email info@ocfilmfiesta.org
Sandra Lilia Velasquez Plays OC Film Fiesta Appreciation Party Oct. 16
Former Pistolera Frontwoman Debuts Solo EP at Free Santa Ana Show
(Santa Ana) The OC Film Fiesta invites you to a free Film Fiesta Appreciation Party featuring a critically acclaimed New York singer Sandra Lilia Velasquez (SLV) on Wednesday, October 16, at The Copper Door in downtown Santa Ana's Artists Village.
Velasquez, frontwoman for the popular Latin alternative band Pistolera, will be performing new material from her debut solo EP, Dig Deeper, which was produced by 10-time Grammy nominee Meshell Ndegeocello.
This event is part of a Super Mixer hosted by OC Film Fiesta, United Artists of Santa Ana and Stay Connected OC. Network with artists, businesspeople and community members.
Celebrate a successful 4th OC Film Fiesta, support the arts in Santa Ana and to make new friends!
The OC Film Fiesta in Santa Ana is a free cinematic celebration of Orange County's Latino and multicultural heritage.
United Artists of Santa Ana is committed to nurturing the growth and preservation of the Arts in Santa Ana by empowering the local arts community through initiatives focusing on economic partnerships, professional development and networking.
The Copper Door is located at 225 N. Broadway, in downtown Santa Ana. 21 and up. No cover. For more information, email info@ocfilmfiesta.org
The 2013 OC Film Fiesta was presented by the City of Santa Ana, PRCSA and produced by Pocharte with generous support from MX Live, Santa Ana Business Council, East End Partners, The Frida Cinema, Long Beach Cinematheque, Cervantes Publishing Company Miniondas Farandula USA, State Farm Insurance Eddie Quillares Agency, Ambulante, Ambulante Mas Alla, Arts OC, OC Community Foundation, James Irvine Endowment Fund, Amtrak, Heritage Museum of OC, Bowers Kidseum, Diego's Restaurant, Quinceañera Magazine, OCGente.com, Mega Furniture, Colleen O'Hara's Beauty Academy, Carvin, Mi Moda Italian Suits, Custom Auto Service, Stay Connected OC, 1st Class Party Events, expovestido.com, Esmaralda Party Rental, United Artists of Santa Ana, Green Heart Families Park and Community Center and Calacas on 4th, Latino Health Access, Payan Pools, Santanero Zine and Aztec Gold TV.
###
www.ocfilmfiesta.org
www.unitedartistsofsantaana.com
stayconnected2004@yahoo.com