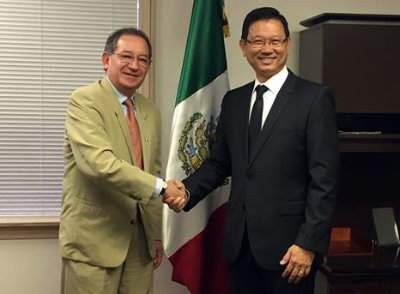 FOR IMMEDIATE RELEASE: JULY 15TH, 2015
CONTACT: BRIAN PROBOLSKY, CELL: 949-533-4254
MEXICAN CONSUL MARIO CUEVAS, SUPERVISOR ANDREW DO FORM FAST FRIENDSHIP TO SERVE ORANGE COUNTY
Santa Ana, California— Mario Cuevas has barely had time to unpack his bags.
But, since arriving at his new post in June, the newly appointed Consul of Mexico has already formed a fast friendship and strong partnership with Orange County Supervisor Andrew Do. The two officials are working together to serve the Latino community in Orange County.
"We're so privileged to have Consul Cuevas in Orange County," Supervisor Andrew Do said after a recent breakfast meeting at the Mexican Consulate in Santa Ana. "It's vital that Orange County work with our partners at the Mexican Consulate to assist new immigrants with necessary public services."
Among those services: access to vital health care. This Monday, July 13, Supervisor Andrew Do and the Consulate of Mexico in Orange County hosted a free health fair. In addition to free dental check-ups for kids, members of the public received access to free screenings for breast cancer and diabetes.
Supervisor Do jumped at the opportunity to work with the Mexican Consulate, in part, due to his own immigrant story. Like so many OC residents, he immigrated to the United States as a teenage refugee during the Vietnam War. That experience during his formative years shaped his perspective and the importance of helping fellow immigrants.
"By partnering with the Mexican Consulate of Orange County, I hope we can expand access to vital county services," Supervisor Do said. "This health fair was the first of many events that my office will be hosting to serve our district."
The free health fair was held this week at the Santa Ana offices of the Mexican Consulate of Orange County. It was conducted in partnership with Healthy Smiles of OC, Susan G. Komen Orange County, YMCA North OC, and the OC Health Care Agency. Together, there were nearly 200 screenings for diabetes, breast cancer, and dental check-ups for kids.
Orange County Supervisor Andrew Do represents the First District, which includes the communities of Garden Grove, Santa Ana, Westminster, Fountain Valley and Midway City.
###