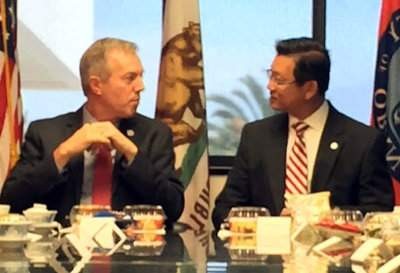 For Immediate Release: Contact: Brian Probolsky
July 15, 2015 Cell: 949-533-4254
SUPERVISOR ANDREW DO TALKS TRADE, HUMAN RIGHTS WITH U.S. AMBASSADOR TO VIETNAM
On first trip to Little Saigon, Ambassador Ted Osius stops for lunch with Supervisor Andrew Do
Santa Ana, California — Orange County Supervisor Andrew Do welcomed U.S. Ambassador to Vietnam Ted Osius to town on Monday, hosting a private lunch meeting with the diplomat during his first trip to Little Saigon.
The two leaders discussed trade, human rights and other ways to strengthen ties between the Southeast Asian nation and Orange County, which is home to the largest Vietnamese population outside Vietnam.
"Orange County is at the center of this historic moment in diplomacy between our two countries," said Supervisor Andrew Do, who was born in Vietnam and immigrated to the United States as a child. "Ambassador Osius has taken to heart the concerns of the Vietnamese-American community. He shares our optimism for improving diplomatic ties – without compromising on human rights, democracy and basic personal freedoms."
As part of his three-day trip to Orange County, Ambassador Osius also met with members of Congress and hosted a town hall event in Westminster to field questions from Orange County's Vietnamese-American community.
"If we don't engage, we don't have a say," Ambassador Osius said at a packed town hall meeting at Coastline Community College. "Vietnam wants two things from us — prosperity and security. That makes this an extraordinary time where we have extraordinary leverage."
Appointed by President Barack Obama in December, Ambassador Osius highlighted the opportunities for stronger diplomatic relationship and improved human rights through the Trans-Pacific Partnership, a 12-country trade agreement that will eliminate regulatory barriers and lower international tariffs. Last month, Congress granted President Obama broad authority to negotiate a deal when trade representatives from the dozen countries convene talks later this summer.
Supervisor Andrew Do believes that the trade agreement, which would cover 40 percent of the global economy, creates an opportunity for enforcing human rights in Vietnam.
"Vietnam will gain tremendous economic benefits through the Trans-Pacific Partnership," Supervisor Do said. "The trade deal is an opportunity for the United States to demand the necessary legal reforms to stop the government's oppression of political dissidents and guarantee due process for all of its citizens."
In addition to imprisoning bloggers and political dissidents, the government of Vietnam continues to use decrees and regulations as a method for circumventing the country's established rule of law. In recent years, peaceful political protesters have been arrested, detained and incarcerated without trial.
"More than 50,000 Americans and millions of Vietnamese people died fighting for democracy and human rights in Vietnam," Supervisor Do said. "We must honor those sacrifices by remaining steadfast in our commitment to human rights and democracy."
Orange County Supervisor Andrew Do represents the First District, which includes the communities of Garden Grove, Santa Ana, Westminster, Fountain Valley and Midway City.
###