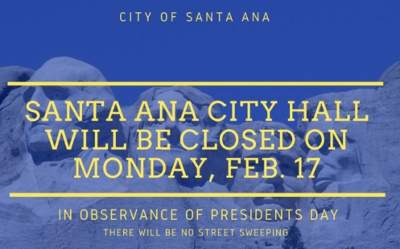 City Hall will be closed on Monday, Feb. 17, in observance of Presidents Day.
There will be no street sweeping. Regular City Hall hours will resume on Tuesday.
For more information, see the holiday street sweeping and trash collection schedule: https://www.santa-ana.org/sites/default/files/pw/Holiday-Sweeping-Trash-Collection-Schedule-2019-2020.pdf
#
El Ayuntamiento de Santa Ana estará cerrado el lunes 17 de febrero por el Día de los Presidentes.
No habrá barrida de calles. El horario regular del Ayuntamiento se reanudará el martes.
Para obtener más información, consulte el calendario de barrida de calles y la recolección de basura durante días festivos: https://www.santa-ana.org/sites/default/files/pw/Holiday-Sweeping-Trash-Collection-Schedule-2019-2020.pdf