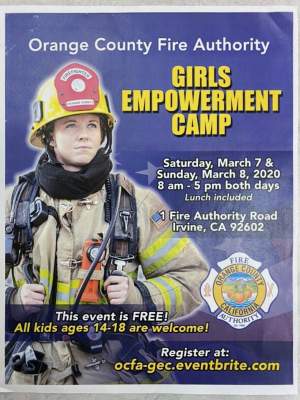 The Orange County Fire Authority's Girls Empowerment Camp will take place for a second year on March 7-8.
OCFA will play host to 100 campers ages 14-18 at the free camp. Registration is now open at https://www.eventbrite.com/e/girls-empowerment-camp-registration-89898431629.
The camp introduces participants to the fire service and provides campers with a realistic, hands-on overview of firefighting. It teaches about all aspects of a fire service career, including the minimum qualifications for employment and the physical demands of the job. The program also empowers campers with life skills and professional guidance to encourage them to pursue careers in public safety.
The camp will take place from 7:45 a.m. to 5 p.m. each day at the OCFA Headquarters, 1 Fire Authority Road, Irvine.