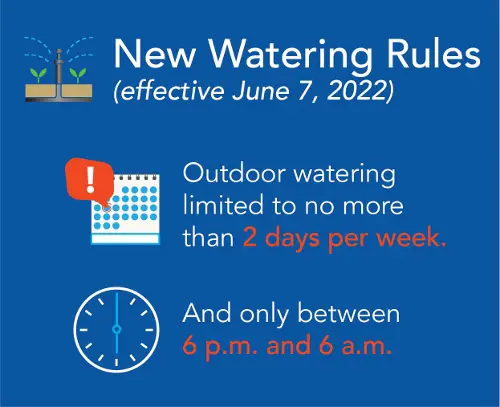 The Santa Ana City Council approved reduction actions for a Level 2 Water Supply Shortage on June 7, 2022, asking all Santa Ana residents to lower their water use by following water conservation practices and for businesses to improve their water use processes. While there is no current water supply emergency for Santa Ana, the resolution was adopted to comply with the State's requirements and help protect future water supplies.
The water restrictions include:
Outdoor watering limited to no more than two days per week and only between 6 p.m. and 6 a.m.
Leaks must be repaired within 48 hours of notification by the City.
No washing down sidewalks or driveways.
No excessive water flow or runoff that causes water to flow onto an adjoining sidewalk, driveway, street, alley, gutter or ditch.
No washing vehicles with a hose, unless the hose is fitted with a shut-off nozzle.
No operating a fountain or decorative water feature, unless the water is part of a recirculating system.
No outdoor watering during and 48 hours following measurable rainfall.
Restaurants and other food service establishments can only serve water to customers on request.
Hotels and motels must provide guests with the option of not having towels and linens laundered daily.
For more information and water saving tips, visit: https://www.santa-ana.org/water-conservation/
Nuevas reglas para el uso de agua
El Concejo Municipal de Santa Ana aprobó acciones de reducción para una escasez de suministro de agua de Nivel 2 el 7 de junio de 2022, pidiendo a todos los residentes de Santa Ana que reduzcan su uso de agua siguiendo prácticas de conservación de agua y que las empresas mejoren sus procesos de uso de agua. Aunque no existe una emergencia de suministro de agua actual para Santa Ana, la resolución se adoptó para cumplir con los requisitos del Estado y ayudar a proteger los suministros de agua en el futuro.
Las restricciones de agua incluyen:
Riego al aire libre está limitado a no más de dos días por semana y solo entre las 6 de la tarde y las 6 de la mañana.
Es necesario reparar las fugas dentro de las 48 horas siguientes a la notificación por parte de la Ciudad.
No se permite lavar las banquetas ni las entradas de vehículos.
No se permite el flujo de agua excesivo o escorrentía que provoque que el agua fluya hacia una banqueta, entrada de vehículos, calle, callejón, cuneta o zanja.
No se permite lavar vehículos con manguera, a menos que la manguera esté equipada con una boquilla de cierre.
No se permite operar una fuente o elemento decorativo de agua, a menos que el agua sea parte de un sistema de recirculación.
No se permite regar al aire libre durante y 48 horas después de una lluvia mensurable.
Los restaurantes y otros establecimientos de servicio de comidas solo podrán servir agua a los clientes que lo soliciten.
Los hoteles y moteles deben brindar a los huéspedes la opción de no lavar toallas y sábanas diariamente.
Para obtener más información y consejos para ahorrar agua, visite: https://www.santa-ana.org/water-conservation/
Quy Định Mới về Sử Dụng Nước
Ngày 7 Tháng Sáu, 2022, Hội Đồng Thành Phố Santa Ana City đã chấp thuận việc cắt giảm sử dụng nước do Thiếu Nguồn Cung Cấp Nước ở Mức Độ 2, yêu cầu tất cả cư dân Santa Ana giảm sử dụng nước bằng cách tuân theo cách thực hành bảo tồn nguồn nước và cho các doanh nghiệp cải thiện quy trình sử dụng nước của họ. Do không có nguồn cung cấp nước khẩn cấp ở Santa Ana, nghị quyết này được thông qua để tuân thủ các quy định của Tiểu Bang và giúp bảo vệ nguồn cung cấp nước trong tương lai.
Việc giới hạn sử dụng nước bao gồm:
Sử dụng nước ngoài trời được giới hạn tối đa hai ngày mỗi tuần và chỉ từ 6 giờ chiều và 6 giờ sáng.
Rò rỉ nước phải được sửa chữa trong vòng 48 giờ khi có thông báo của Thành Phố.
Không rửa lề đường hoặc nơi đậu xe trước nhà.
Không để nước chảy tràn quá mức hoặc không tắt nước gây ra việc tràn nước ra các lối đi bộ liền kề, chỗ đậu xe trước nhà, đường phố hoặc cống rãnh.
Không rửa xe bằng ống nước, trừ khi ống nước có van tắt nước ở đầu vòi.
Không để nước chảy ở đài phun nước hoặc vật trang trí sử dụng nước, trừ khi nước là một phần của hệ thống tái tuần hoàn.
Không sử dụng nước ngoài trời trong vòng 48 giờ sau khi có lượng nước mưa có thể đo lường được.
Nhà hàng và các dịch vụ thức ăn khác được thiết lập chỉ có thể phục vụ nước theo yêu cầu của khách hàng.
Khách sạn và nhà nghỉ phải cung cấp cho khách lựa chọn không giặt tấm trải giường và khăn mỗi ngày.
Để có thêm thông tin và các mẹo tiết kiệm nước, hãy truy cập: https://www.santa-ana.org/water-conservation/