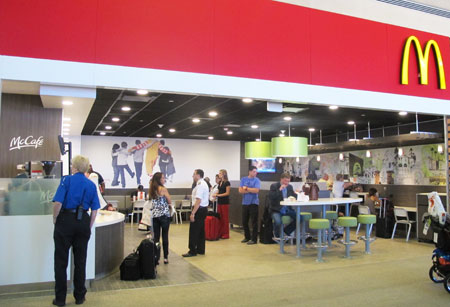 FOR IMMEDIATE RELEASE: May 15, 2012
For More Information, Contact: Jenny Wedge, (949) 252-5182 (office), jwedge@ocair.com
Beverly Durham, 323.762.2451, Bdurham@porternovelii.com
NEWLY REMODELED McDONALD'S OPENS AT JOHN WAYNE AIRPORT
SANTA ANA, Calif. – On Monday, May 14, 2012, the newly remodeled McDonald's restaurant, across from Gate 12, opened to the traveling public at John Wayne Airport.
The innovative design of the new McDonald's restaurant gives a contemporary "forever young" feel in line with the McDonald's "i'm lovin' it" brand. The modernized features of this restaurant include an upscale interior décor, comfortable lighting levels and fixtures that create pleasant dining experiences, modern seating and furniture, including booths, chairs, high seated community tables and lounge-style seating areas. Additionally, this restaurant is the first McDonald's in California to feature new digital menu boards.
The décor of the restaurant, owned and operated by local McDonald's franchisee Isabelle Villaseñor and her daughters Lisa De Bono and Jenny Briones, reflects the interests and community Villaseñor treasures. A mural depicts the cultural impact of Orange County, highlighting key Orange County locations such as San Juan Capistrano, Chapman University, the Bowers Museum and the Orange County Ronald McDonald House. Additionally, there is an image of Villaseñor's five grandchildren skipping away arm-and-arm with Ronald McDonald.
McDonald's/McCafé, located near Gate 12
"As a resident and businesswoman in Orange County for more than 40 years, it was important to me to build a restaurant that reflected the beauty of this community and also pay homage to what is most important in my life – family," said Villaseñor. "I wanted to remind passengers of the Orange County beauty they were about to step into or were about to leave behind."
A second McDonald's location, near Gate 5, is closed for remodeling and will reopen in August. Both McDonald's venues will offer the chain's popular McCafé menu. Renovating the two McDonald's locations is part of a comprehensive effort by the Airport to bring a greater variety of quality dining and retail choices to our passengers.
Construction is also taking place between Gates 8 and 9 in the Thomas F. Riley Terminal where a Ruby's Diner, Ruby's Grab n' Go and Farmer's Market by Laguna Culinary Institute will open later this year. These and other concession changes are part of the overall Airport Improvement Program which includes construction of a new multi-level terminal building with six new commercial passenger gates, new security checkpoints, greater baggage screening capability, 2,000+ new parking spaces and new commuter terminals at the north and south ends of the extended terminal.
About John Wayne Airport:
John Wayne Airport (SNA) is owned by the County of Orange and is operated as a self supporting enterprise that receives no general fund tax revenue. The Airport serves approximately nine million passengers annually, reaches more than 20 non-stop destinations in the United States and Canada and is served by eight commercial passenger airlines. More information can be found at www.ocair.com.
# # #