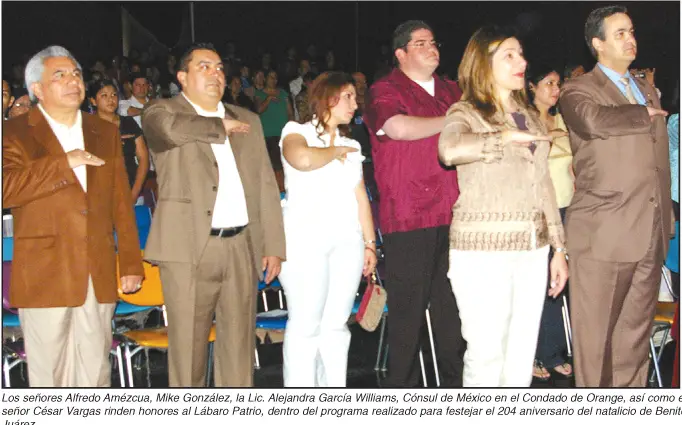 Apparently there was a celebration recently in Santa Ana in honor of Benito Juarez, the famed Mexican President who was indigenous.  He was born on March 21, 1806.
In the picture above, which is courtesy of Miniondas, you can see some of the folks who were at the event, including Santa Ana Mayoral candidate Alfredo Amezcua, who is pictured on the left.  He is standing next to Mike Gonzalez, who ran for the SAUSD School Board last year.  They are standing near Alejandra Garcia Williams, the new Consul of Mexico, in Santa Ana.
In case you are wondering what they are doing with their hands, that is how Mexicans salute their flag. 
Juarez certainly deserves to be honored.  He was an amazing man and a great Mexican President.
"Benito Juarez was a Zapoteco Indian, born March 21st 1806. Orphaned at three, he eventually came to Oaxaca at age 12, and began studying for the priesthood. The works of the Enlightenment's great rationalist philosophers caught Juarez's eye, and he began to see his calling in law. In 1831 he became an attorney as well as a city councilman. In 1841 he became a judge, and the governor of Oaxaca. In 1853 conservative dictator Antonio López de Santa Anna took power and exiled liberals, including Juarez, who sought asylum in New Orleans," according to a history page on the Olvera Street website.
Juarez eventually became President of Mexico, after a civil war, but then had to suspend payments to European creditors, which is when the French invaded Mexico.
"During the French occupation of Mexico, Juarez refused to accept the rule of the Monarchy or any other foreign nation, and helped to establish Mexico as a constitutional democracy. He also promoted equal rights for the Indian population, better access to health care and education, lessening the political and financial power of the Roman Catholic church, and championed the raising of the living standards for the rural poor," according to Mexonline.com.
You can read the article about this event, at Miniondas' website, at this link.
The Miniondas article does not appear to mention where the event was held.  It does mention that the Girl Scouts were involved and apparently Congresswoman Loretta Sanchez was invited.