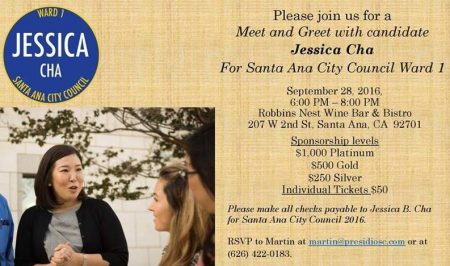 Jessica B. Cha, our endorsed candidate for the Santa Ana City Council's Ward 1, is hosting a campaign meet and greet and fundraiser on Wed., September 23, 2016, from 6:00 p.m. – 8:00 p.m., at Robbins Nest Wine Bar & Bistro, located at 207 W 2nd Street, in Santa Ana. RSVP to (626) 422-0183 or email martin@presidiosc.com. You can also contribute online here.
Cha is a successful family law attorney with a law practice located in Santa Ana. Her father Walter owns a number of properties in our city. I had a chance to hear her in action at this week's Com Link candidates' forum. She knows the issues and is a good communicator. 
Cha is running against longtime Santa Ana City Councilman Vince Sarmiento. In our opinion he has been in office too long. Sarmiento went along with the rest of the Santa Ana City Council when they fired former SAPD Police Chief Paul Walters. He also supported the hiring of our inexperienced and ineffective Police Chief Carlos Rojas and the hiring and overpaying of our City Manager, David Cavazos. Sarmiento also went along with the Council when they placed their ridiculous self-serving 700% raise on the ballot (Measure PP). For these and many other reasons he has to go!
Check out Cha's Campaign Facebook page here.