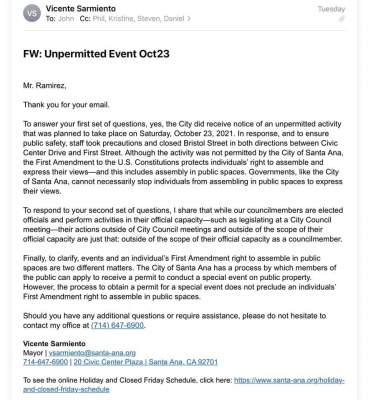 You may recall our previous post about the unpermitted concern that was held in honor of a felon who was fatally shot after a police pursuit that ended in Santa Ana. In that post we alluded to a response by Santa Ana Mayor Vince Sarmiento, to a resident, regarding that event. We now have a copy of that response and it is unbelievable.
Sarmiento wrote:
Yes the City did receive notice of an unpermitted activity that was planned to take place on Saturday, Oct. 23.
In response, and to ensure public safety, staff took precautions and closed Bristol Street in both directions between Civic Center Drive and First St.
Although the activity was not permitted by the City of Santa Ana, the First Amendment to the Constitution protects individuals' right to assemble and express their views and this includes assemblies in public spaces
Governments, like the City of Santa Ana, cannot necessarily stop individuals from assembling in public spaces to express their views.
While our council members are elected officials…their actions outside of City Council meetings…are outside their scope of their official capacity as council members
The City of Santa Ana has a process by which members of the public can apply to receive a permit to conduct a special event on public property.
However the process to obtain a permit for a special event does not preclude an individual's First Amendment right to assemble in public spaces
Remember that Mayor Sarmiento is a bankruptcy lawyer. He is so successful at this that his law firm does not even have a website but you can confirm what he does here.
Sarmiento is of course dead wrong in his response about the unpermitted event. That event was a concert and the only reason that Santa Ana City Council Member Johnathan Ryan Hernandez and his homies did not pull a permit for that event was that they could not afford to pay the City back for the money that was spent on that event. I am told by city insiders that the City spent perhaps as much as $100K on police services and public works on that unpermitted event.
The First Amendment by the way has limits. You cannot go in a crowded movie theater, for example, and yell that there is a fire when there is no fire.
By Sarmiento's logic no one should ever have to pull a permit again for any event using his specious First Amendment argument.
Shutting down a portion of a busy street like Bristol is a big deal. That was an inconvenience for the residents and the businesses in that area. And it tied up police resources too!
Here is the response we got from an attorney today about Sarmiento's poor grasp of the law:
The government may place reasonable restrictions on the time, place, and manner of free speech expression so long as they are content neutral, narrowly tailored and provide alternate means to express the views. Remember, even the ACLU acknowledges that the first amendment does not give you a right to block traffic or entrances to buildings. This is unbelievable!
Sarmiento is a scofflaw and so is Hernandez. It is beyond disturbing that we have elected officials who don't support our local ordinances.
By the way we have turned in official requests to City Hall for specific data regarding the money spent on the unpermitted concert for a felon. Once we get that info we will post it here.