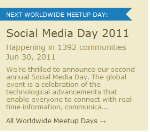 Worldwide Meetup Day happening in 1417 other communities
Thursday, June 30, 2011, @ 3:00 PM
The Orange County Register
625 North Grand Avenue Santa Ana, CA
We're thrilled to announce our second annual Social Media Day. The global event is a celebration of the technological advancements that enable everyone to connect with real-time information, communicate from miles apart and have their voices be heard. We invite you to celebrate by socializing with your online community offline!
More details:
This FREE event will be from 3:00 – 6:00. Great speakers, great food trucks and more!
Note that seating will be first-come, first-serve.
9 FOOD TRUCKS:
– Chomp Chomp
– Dogzilla Hot Dogs
– Dos Chinos
– The Lime Truck
– Oh For Sweets Sake
– The Scoop on Cookies
– Spudrunners
– Star Diner (Carl's Jr.)
– Tropical Shave Ice
21 PANELISTS:
– Cheril Hendry, Brandtailers and co-organizer of TEDxOrangeCoast
– Bryan Elliott, founder of Linked OC and the SoCal Action Sports Network
– Burt Herman, CEO & Co-Founder at Storify
– Ian Hamilton, OCR technology blogger/reporter
– Eric Bryant AKA TheRECoach, V.P. of Internet Services at Coldwell Banker Coastal Alliance
– Rob Poetsch, Founder and President, Rob Poetsch Consulting Group
– Marcy Massura, Weber Shandwick digital community manager for Oscar Meyer
– Beth Mansfield, Director, Public Relations at CKE Restaurants, Inc.
– Nancy Luna, OCR reporter and Fast Food Maven
– Lauren Drell, Assistant Editor of Supported Content at Mashable
– Sonya Quick, OCR leader and also a consumer (TENTATIVE)
– Kohl Crecelius, CEO of Krochet Kids International
– Jeffrey Friend, manager of Social Good Today (and director of social media & marketing at The Culver Group)
– Max McGhee, Art Director for Saddleback Church
– Orange Country Sheriff's Department (How to protect your children in this social world)
– Mona Shah, founder of Moxxe PR of Laguna
– Debbie Tesla, Dippin Dots franchisee
– Gary Robbins, San Diego Union-Tribune
– Kelly Borgen, marketing consultant, creator of "I Heart Old Towne Orange"
– Eva Smith, Co-Founder of Latina Mom Bloggers
– Suzanne Broughton, blogger, columnist and SM community manager for OC Family Magazine
Click here to come help us plan the event in our open Facebook Group.