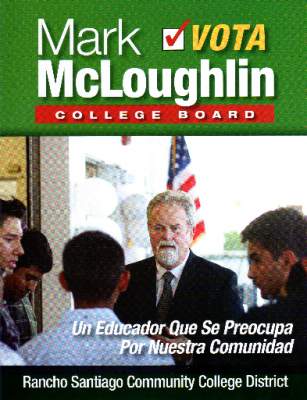 One of the funniest campaign mailers I have ever seen arrived in my mail box today, from Mark McLoughlin, a Rancho Santiago Community College District Trustee who is running for re-election in Area 3.  He went full raza!
The flier is in Spanish and it erroneously states that McLoughlin is an educator. no he isn't!  His opponent, Dave Chapel, actually is an educator.  McLoughlin is just a suit with zero experience as an educator.
We finally have a chance at electing a few Latinos to the RSCCD Board of Trustees.  McLoughlin's other opponent, Santa Ana Mayor Pro Tem Claudia Alvarez, is likely going to beat him.  Assemblyman Jose Solorio is also running for a seat on the RSCCD Board, in Area 1, and there are two Latinos running in Area 5 – Nelida Yanez and Tony Tapia.
With that in mind it is hilarious to see that McLoughlin got Loretta Sanchez' endorsement.  Vendida!  Maybe we should thank her for this by voting for her guero opponent, Jerry Hayden?
A new study by Dr. Mike Moodian hints at why McLoughlin is running again.  It turns out the RSCCD Trustees are way overpaid!  And they have too many benefits!  These good old boys are ripping us off!
McLoughlin's mailer says he is concerned about our community.  I must call BS on that.  Sure, he was concerned when he worked to recall SAUSD Trustee Nativo Lopez, but his real concern was keeping a neighborhood school out of his own neighborhood, Floral Park.  My favorite story about the recall was that on the night of the election a former blogger who happens to be Latino tried to get into the recall party at McLoughlin's house and his wife blocked him!  I guess they had already hit their Latino quota for the night.
And McLoughlin now is one of the NIMBY's trying to stop the completion of a bike trail along the Santiago Creek.  Why?  Because he is concerned the some of the brown guys on his mailer might take a bike ride by his house!
McLoughlin first got onto the RSCCD Board when his predecessor, Al Amezcua, had to quit after someone told the RSCCD Chancellor that Amezcua had registered to vote at his law office address instead of at his home in Morrison Park.  He didn't live in the RSCCD Area he ran for.  Who told me this?  McLoughlin himself.  I am pretty sure he was the one who outed Amezcua.  There is no honor among thieves…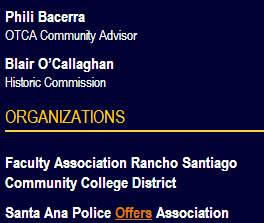 But for real high comedy check out his endorsements page. His backers include:
Phili Bacerra, OTCA Community Advisor
I know a guy named Phil Bacerra.  Perhaps "Phili" is his sister?  And Phil got booted off an OCTA Commission.  What the heck is the OTCA?
Here's another good one:
Santa Ana Police Offers Association
Police Offers?  What the heck?  Maybe they should offer to spell check McLoughlin's website? LOL!
Can Latino voters be so stupid that they will actually vote for this guy?  I guess we'll find out on Nov. 6.