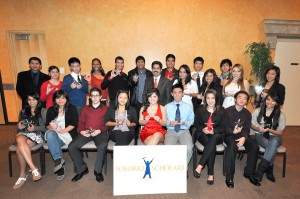 Dear Friend,
As you make end-of-year decisions for worthy non-profit organizations to support, I hope you'll consider the Orange County Leadership Fund. Your support would not only help our Solorio Scholars cause, but also provide you with an eligible tax deduction.
The Orange County Leadership Fund supports leadership workshops, innovative education initiatives, neighborhood clean-up projects, and programs addressing local and state policy issues.
I am especially supportive of the organization's Solorio Scholars program. The Solorio Scholars program was created to inspire more high school students from central Orange County to apply for college and help them pay for their college application fees – which few scholarship programs assist with.
The new Solorio Scholars (Class of 2013) will be recognized on December 8th from 5:30 p.m. to 7:30 p.m. The awards dinner will be held at the Santa Ana Police Officers Association Hall, 1607 N. Sycamore St. in Santa Ana. We hope you will consider sponsoring or attending the event.
Solorio Scholars – Class of 2012
Private donations to the Orange County Leadership Fund also enable us to fulfill our mission and support great programs in the community, including:
• High School, Inc. (new career technical education school at Valley High School in partnership with the Santa Ana Chamber of Commerce)
• Achievement Institute of Scientific Studies program (after-school program for high school students focusing on science, technology, engineering and mathematics)
• CLEATS program (soccer initiative to promote teamwork, healthy living and the sport that is loved worldwide)
• Cesar E. Chavez Community Celebrations (school assemblies, community events in recognition of Cesar Chavez Holiday in Anaheim and Santa Ana)
Please consider becoming a sponsor of the Orange County Leadership Fund and supporting our Solorio Scholars. Sponsorships of $5,000, $2,500, $1,000 or even $100 would be much appreciated.
Donation checks can be made out to the organization, "Orange County Leadership Fund" and mailed to: OCLF, Attn – Jessica Gutierrez, P.O. Box 27171, Santa Ana, CA 92799. This is a 501(c) (3) non-profit organization, with the tax ID #27-1096489. Contributions are tax deductible.
We hope we can count on your support. Thank you for your consideration.
Sincerely,
Jose Solorio
State Assemblyman