An armed robber was captured on surveillance video when he robbed Valley Liquors, located at 2429 West Edinger, in Santa Ana, just after midnight on Wednesday morning, according to KTLA.
The SAPD and the Fullerton Police are trying to figure out if this suspect is also the man who robbed JJ's Liquor, located at 2238 W. Orangethorpe Ave., in Fullerton, at around 10:15 p.m. on Tuesday, Nov. 21, according to the O.C. Register.
The Fullerton robbery suspect was described as a black man in his early 30s, about  6-feet-1, clean shaven with a thin build.  He was wearing a dark, hooded sweatshirt with the hood portion covering his head and gray sweatpants, according to the Fullerton Police.
The suspect had a handgun when he approached a clerk at JJ's Liquor and demanded cash. He fled southbound on Gilbert Street with an undisclosed amount of money.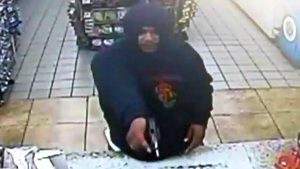 The Santa Ana robbery suspect was described as a Hispanic male with a medium build and complexion. He was wearing a black, hooded sweatshirt with "USC" printed on the hood and front, a white shirt and black sweatpants, according to the SAPD.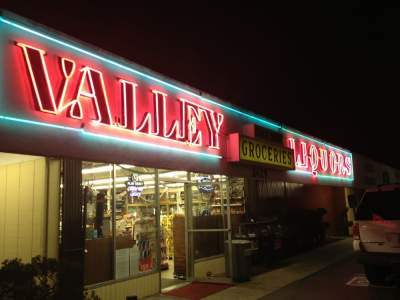 The Valley Liquors surveillance video shows the robbery suspect walking around the store before approaching the counter and pulling what appears to be a gun out of his sweatshirt. The suspect then loaded a bullet into the gun's chamber. The clerk immediately put his hands up and attempted to run away from the gunman. Then the suspect chased the clerk around the counter and through the store. The suspect eventually went back to the cash register and stole between $1,500 and $2,000. SAPD investigators believe the clerk may have been about to make a cash drop or deposit when the gunman arrived.