It has happened again. A young man, Nathan Joe Alfaro, of Westminster, was murdered in Downtown Santa Ana, this time at a concert venue called Underground DTSA, on Thursday night, according to the O.C. Register.
A 23-year-old man was fatally stabbed when a fight broke out at about 10:30 p.m., inside Underground DTSA, which is located at 220 East Third St., in Santa Ana's East End Promenade.
The fight broke out as the second of five punk rock bands scheduled to perform Thursday night was playing. "It was just one psycho dude who started a mosh pit," musician Laena Geronimo said, according to KTLA.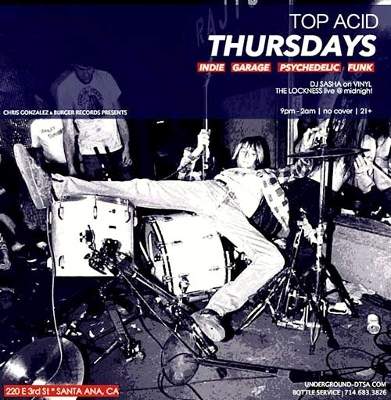 The concert was billed as "Top Acid Thursdays," and featured Feels Santoros, The Hurricanes and Ghali the Jailbirds.
The victim was taken to a local hospital where he was pronounced dead. The O.C. Coroner has not yet identified him.
The suspect is described as a Male, Hispanic, 20's, 5'6″, wearing a black shirt and fled in unknown direction, according to the SAPD.
DTSA is developing a bloody reputation. Jeffrey Lee Chung, an Irvine resident, was shot to death in the summer of 2013, at a parking structure in the 200 block of West Third Street, according to the O.C. Register, during a robbery.
Kim Pham, a 23-year-old woman, was literally stomped to death by two women outside a restaurant and nightclub called The Crosby, that has since gone out of business, on January 18, 2014, as we previously reported.
This incident happened in Santa Ana's Ward 2, which is represented by Council Member Michele Martinez.
SAPD Homicide Detectives are handling the investigation, anyone with information is asked to contact Detectives at 714-245-8390 or Orange County Crime Stoppers at 1-855-TIP-OCCS.