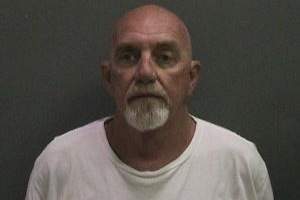 Orange County District Attorney, Press Release
For Immediate Release, Case # 82CF00450: June 27, 2013

MAN SENTENCED TO SIX YEARS AND EIGHT MONTHS FOR SEXUALLY ASSAULTING, RAPING, AND ROBBING TWO WOMEN HE MET THROUGH PENNYSAVER ADS IN 1980S
SANTA ANA – A man was sentenced today to six years and eight months in state prison and mandatory lifetime sex offender registration for sexually assaulting, raping, and robbing two women whom he met through PennySaver advertisements for apartment rental and furniture sales in the 1980s. James Michael Camp, 59, Anaheim, pleaded guilty June 17, 2013, to two felony counts of rape by force or violence and one felony count of grand theft.
Circumstances of the Orange County Rapes
On July 23, 1980, Camp arranged a meeting with Jane Doe #1 after seeing a PennySaver advertisement she had placed for an apartment for rent in Santa Ana. Camp arranged to take a tour of the apartment with Jane Doe #1 later that evening. During the tour, Camp approached Jane Doe #1 from behind and choked her. Camp pulled out a knife and threatened to kill the victim. Camp knocked Jane Doe #1 to the ground and forcibly orally copulated the victim. Camp then tied the victim with an electrical cord, raped her, and burglarized the apartment before fleeing the scene. The victim was able to untie herself and contacted the Santa Ana Police Department, who investigated this case.
At approximately 11:30 a.m. on July 22, 1981, Camp contacted Jane Doe #2 after he saw a PennySaver advertisement she had placed for patio furniture. Camp arranged to meet with Jane Doe #2 to look at the patio furniture that was advertised for sale. While Jane Doe #2 was in the backyard, Camp went back in the home and pulled out a knife from his pants when the victim went to check on him. Camp grabbed the victim and pulled her into the master bedroom. Camp pushed the victim onto the bed, forced the victim to orally copulate him, and then forcibly raped her. Camp then stole money from the victim's jewelry box and valuables from her purse and fled from the scene. The Anaheim Police Department investigated this case.
The rapes were investigated but the defendant was not immediately identified.
Arrest and Charges
Camp fled from California and was ultimately arrested and charged in Louisiana for a rape case in that state. Based on that arrest, Camp was linked to the rapes in Orange County. He was charged with the Orange County crimes in 1982 and a warrant was issued for his arrest.
As a result of his Louisiana arrest, Camp was also identified by the U.S. Attorney's Office as a previously-unidentified defendant for making bomb threats to Disneyland while in Orange County.
On Feb. 2, 1983, Camp pleaded guilty to one felony count of aggravated rape in Louisiana and was sentenced to life in state prison. After serving 30 years of his sentence in Louisiana, Camp was detained by the U.S. Attorney's Office on June 6, 2011, and began serving a sentence of five years in federal prison in Arizona for the bomb threats case.
Camp was extradited to Orange County from federal custody in Arizona on April 3, 2013, on the outstanding warrant for the 1982 sexual assault charges.
At the sentencing today, one of the victims delivered an emotional impact statement to the court describing how the attack took a toll on her marriage and discussing how she feels that she has been suffering in her own prison and will serve a longer emotional sentence than the defendant.
Camp's lifetime sex offender registration bars him from entering County recreational areas and some City parks which have passed the Sex Offender Ordinance banning all registered sex offenders. Visit www.orangecountyda.com to read the prior press releases on the County's Sex Offender Ordinance as well as the 14 other cities that have enacted the Child Safety Zone Ordinance.
Deputy District Attorney Whitney Bokosky of the Sexual Assault Unit prosecuted this case.
###
Tony Rackauckas, District Attorney
401 Civic Center Drive West
Santa Ana, CA 92701
Contacts:
Susan Kang Schroeder
Chief of Staff
Office: 714-347-8408
Cell: 714-292-2718
Farrah Emami
Spokesperson
Office: 714-347-8405
Cell: 714-323-4486