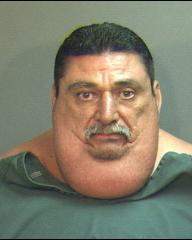 A 56-year-old man, accused of grabbing a 10-year-old boy and sniffing his arm, was sentenced to 32 months in prison Thursday after pleading guilty. Victor Joseph Espinoza of Santa Ana, who weighs 425 pounds, pleaded guilty to a false imprisonment charge. His rap sheet includes a conviction as a gang member, according to CBS News.
CBS also reported that "In exchange for his guilty plea, charges of street terrorism and a sentencing enhancement for gang activity were dismissed."
At approximately 7:20 pm on Oct. 7, 2012, 10-year-old John Doe and his 19-year-old female cousin were walking near to John Doe's soccer practice on a bike trail by Delhi Park in Santa Ana. Espinoza is accused of approaching John Doe and asking the victim whether he wanted to see Espinoza's gang tattoo. Espinoza is accused of claiming his gang, then grabbing and smelling the victim's arm.
The victim's cousin screamed for the defendant to let John Doe go. The victim broke free, ran to the soccer field with his cousin, and told his soccer coach what had happened. His coach ran down the bike trail looking for the assailant.
The defendant is accused of being tackled by the soccer coach, escaping, and hiding under a tree in the backyard of a nearby house. Espinoza is accused of being located by Santa Ana Police Department officers, who investigated this case.