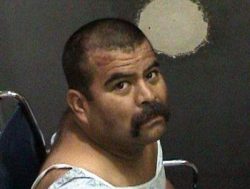 FOR IMMEDIATE RELEASE
Case # 14WF4277
Date:September 14, 2018
MAN SENTENCED TO 35 YEARS TO LIFE FOR MURDERING PASSENGER BY CRASHING TRUCK AND ASSAULTING TWO POLICE OFFICERS DURING HIGH SPEED PURSUIT
SANTA ANA, Calif. – A man was sentenced to 35 years to life in state prison today for murdering his passenger after assaulting two police officers and leading police on two separate high speed pursuits in Westminster.
Defendant: Javier Homero Montoya, 44, Riverside
Found guilty by a jury on April 25, 2018, of the following felony counts:
Second degree murder
(2) Assault on a peace officer
Sentencing Enhancement: Prior serious felony conviction in 2000 for committing a residential burglary in Riverside County
Sentence: 35 years to life in state prison
Circumstances of the Case
At approximately 7:15 p.m. on Dec. 1, 2014, the defendant drove a Ford F-150 pickup truck and left a 24 Hour Fitness parking lot in the Westminster Center.
Montoya failed to stop for two Westminster Police Department (WPD) officers, who were attempting to conduct a routine traffic stop on the defendant's vehicle.
The defendant drove recklessly and led WPD officers on a high-speed pursuit on the northbound Interstate 405.
During the pursuit, Montoya slammed on his brakes and caused a pursuing WPD vehicle to collide with the back of the defendant's truck. The defendant then hit the side of another WPD officer's vehicle before fleeing the scene.
At approximately 11:30 p.m., Montoya drove from an apartment complex in Westminster with his friend, 43-year-old Alberto Marquez, in the passenger seat.
The defendant drove his pickup truck near the Westminster Center before being spotted by WPD officers. He failed to stop for WPD officers as they attempted to perform a traffic stop, which led to a second pursuit.
Montoya drove recklessly going northbound on Interstate 405 at speeds of approximately 90 miles per hour with his headlights off while being pursued by WPD.
The defendant lost control of the vehicle and crashed into trees and light poles off the side of road near the Interstate 710 interchange.
Montoya and Marquez were trapped in the vehicle, which caught fire as a result of the collision. Both Montoya and the victim were removed from the vehicle. Marquez was pronounced dead at the scene and Montoya was transported to Long Beach Memorial hospital and treated for minor injuries and was subsequently arrested by WPD.
WPD investigated this case.
Prosecutor: Senior Deputy District Attorney Daniel Feldman, Homicide Unit.