Is she finished already?  Has U.S. Rep. Loretta Sanchez tanked her campaign for the U.S. Senate – when she let out what has been deemed a racist Native American 'war cry' over the weekend, at the Democratic Convention in Anaheim?
After Saturday's gaffe, the congresswoman sprinted past a reporter asking her if she wanted to take back the 'war cry' gesture. Waving her hands in the air, she cried, "We don't have time today. Sorry," according to CNN.
This wasn't Sanchez' first gaffe since she started pondering running against the State Attorney General, Kamala Harris, for the Senate seat being vacated by Barbara Boxer.  In April Sanchez criticized Harris for her inability to speak Spanish, according to the Sacramento Bee.
Fred Smoller, an associate professor of political science at Chapman University, where Sanchez graduated and now teaches and serves on the board, said in April that "She has that independent streak, the Loretta character where she isn't undisciplined, but she also isn't controlled," he added. "It's part of her authenticity. There is little virtue in being something she's not: stilted or scripted."
Smoller called it – but did Sanchez' ridiculous actions on Saturday wreck her Senate campaign?  Her mistake has been widely reported in national media.  She is now the most famous Democrat in California – but not for the right reason.
Harris has banked more than $2.2 million for the campaign, more than quadruple the nearly $540,000 in campaign money that Sanchez has on hand, according to the L.A. Times.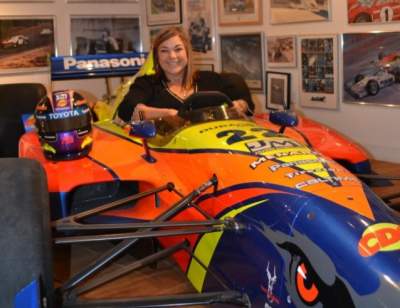 Loretta Sanchez refused Sunday to rule out the possibility of running instead for reelection to the House of Representatives, according to the L.A. Times.  However at this point Sanchez may as well drop out of the Senate race.  She is finished and she did it to herself.
It is a shame as it would have been a real boon to Orange County to elect a U.S. Senator from our area.  And Harris is not a great candidate – she is a longtime drug warrior who is in cahoots with the prison guards union.
There are other California Democrats considering bids for Boxer's seat, including U.S. Reps. Xavier Becerra of Los Angeles, John Garamendi of Walnut Grove and Adam Schiff of Burbank.  One or more of them might go for it once Sanchez drops out.
Don't feel too bad for Sanchez.  She will no doubt hang on to her House seat despite what happened this weekend.  If you are going to feel sorry for someone consider former State Assemblyman Lou Correa, who was salivating at the thought of running for the 46th Congressional District.  You can stick a fork in him now!
The Republicans really have no shot at Boxer's seat. The Democrats' have a 15-percentage point advantage in voter registration here in California.  Sanchez, a former Republican, would have been far preferable to the GOP over Harris.  Now the GOP will have to roll with their longshot candidates – Assemblyman Rocky Chavez of Oceanside and former state GOP Chairman Tom Del Beccaro of Contra Costa County.  Good luck with that…