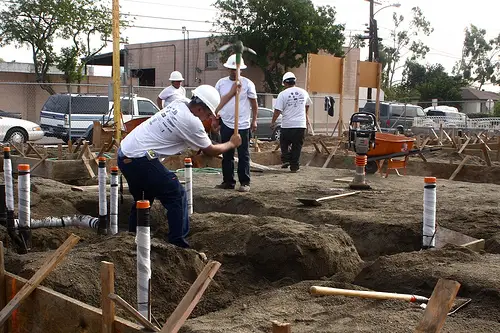 The Hope Builders, a division of Taller San Jose, will be celebrating the completion of the Hope Builders homes in Santa Ana's Logan Neighborhood, on Oct. 17, at 10:30 am.  Lunch will be available after the ceremony.
To RSVP please contact Liana Meyer at (714)543-5105 ext. 128.
Through a collaboration of Taller San Jose, the City of Santa Ana and Orange County Community Housing Corp., Hope Builders provided affordable housing for first-time homebuyers in the Logan neighborhood in Santa Ana.
The project served to revitalize one of Orange County's oldest neighborhoods. With a history that spans nearly 120 years, the Logan area was home to some of the region's early farm-working families, many of whom still live there.
In September 2008, Hope Builders Inc. held its groundbreaking ceremony, and construction soon followed.
The Hope Builders workers are graduates of the Taller San Jose Construction Academy.