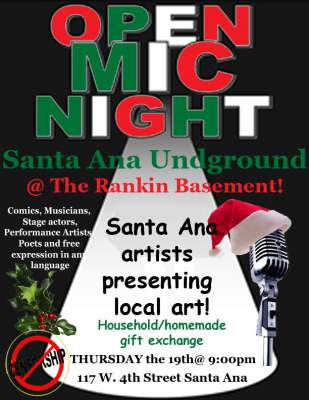 Santa Ana Underground RETURNS with one last Open Mic of the YEAR, on Dec. 19, at 9 pm, at the Rankin Basement, located at 117 W. 4th St. in Santa Ana.
In addition to our VERY special last open mic, we are adding festiveness to our spot & inviting artists to come and sell any affordable art pieces / threads / goods they may have to offer as well!
Tis the season of giving and helping to support Local Artists instead of mass produced junk made with slave labor half way around the world! We ALL want to see this community come up and maintain the Artists Village here in DTSA! What better way than to share our talents?
You will have to provide your own table, lighting & everything else you may need to establish your vendor spot at the open mic, but you will keep every penny of what you sell! This is a free community event for the people by the people!
PLEASE message Jenny Lynn if you are interested in vending at the open mic!
This is true, unadulterated, to the heart, uncensored, what open mic was meant to be!
* A PA system will be provided with 2 mics and 2 plug ins
*Room capacity 200+
Endless BIG ups to Ruben, Italix, the other generous souls who work in The Rankin & of course Ryan Chase for their undying generosity & willingness to help bring up the artist community by letting us temporarily occupy their kick ass spot for one groovin' evening! Everyone be sure to give them a BIG HUG when you see them, THEY are the reason this night is happening!
Lastly, since this is a new venue I must stress that we be conscious & respectful of the space. Clean up as we go is the easiest and best option for the evening.
♥ If anyone wants to contribute paper towels and trash bags to the cause it is much obliged!
♥ Bring a "pack it in, pack it out" mentality to the venue & ALWAYS keep the positive vibes flowin' because there is NO tolerance for bad attitudes here!
Everyone is going to LOVE this venue….So excited to close out the year with you all! Spread the word & good vibes!