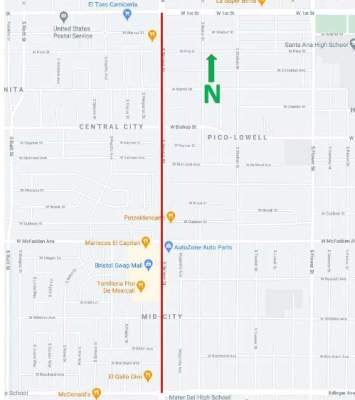 For four months, starting Monday, February 22nd through Wednesday, June 9, 2021 Bristol Street will be reduced to two lanes in each direction between Edinger Avenue and 1st Street. Additionally, during certain construction activities, it may be required to reduce traffic to only one lane in each direction. These temporary lane reductions are required for the construction of the new protected bike lanes. Once the project is completed, three lanes in each direction will be reinstated.
Please use alternate routes and plan for possible delays since this lane reduction will impact traffic flow and bus routes. Access to businesses will be maintained at all times. The lane reduction is subject to change based upon weather conditions.
If you have issues or questions during the construction activity, please contact our City Inspector, Cesar Cantuba at (951) 818-2179 or City Construction Manager, Sean Thomas at (714) 647-5655. We apologize for any inconveniences and thank you for understanding.
Reducción de Carriles en la Calle de la Bristol Comienza el lunes, 2/22/21
Durante cuatro meses, comenzando el lunes, 22 de febrero hasta el miércoles, 9 de junio de 2021 la Calle de la Bristol será reducida a dos carriles en cada dirección entre Edinger Avenue y 1st Street. En ocasiones, durante ciertas actividades de construcción, puede requerirse que se reduzca los carriles a sólo un carril en cada dirección. La reducción de los carilles temporal es requerida para la construcción de los nuevos carriles de protección de ciclistas. Cuando el proyecto sea completado, los tres carriles en cada dirección serán reinstalado.
Por favor use rutas alternas y plan para tardanzas posibles ya que esta reducción de carriles y rutas de autobús afectadas. El acceso a negocios será mantenido siempre. La reducción de carriles es sujeto de cambiarse basado sobre condiciones meteorológicas.
Si usted tiene preguntas durante la actividad de construcción, por favor póngase en contacto con nuestro Inspector de la Ciudad, Cesar Cantuba en (951) 818-2179 o Gerente de Construcción de la Ciudad, Sean Thomas en (714) 647-5655. Pedimos perdón por cualquier inconveniente y gracias por su compresión.