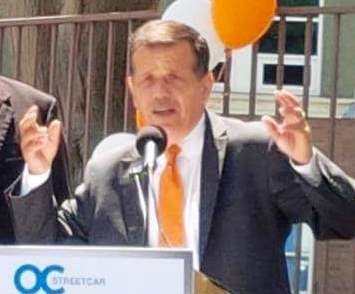 Santa Ana Mayor Miguel Pulido has agreed to pay $13,000 in fines to the California Fair Political Practices Commission (FPPC) stemming from a personal land deal with a city contractor, according to the O.C. Register.
The fines stem from a land swap wherein Pulido traded a parking lot next to his brother's muffler shop to auto parts provider Rupen Akoubian, who runs a NAPA auto parts store located next to the parking lot in question.  Akoubian swapped a home in Westminster for the parking lot so he could expand his business.
Pulido accidentally voted to renew a city auto parts contract with Akoubian after it was included in a City Council consent calendar.  Pulido should have abstained from that vote but the City Attorney at that time neglected to advise him to do so.  That City Attorney has since retired.
The contract with Akoubian was recommended by city staff and unanimously approved by the City Council, and the FPPC found no evidence that Pulido influenced city staff or council members – because he didn't talk to anyone about the contract renewal.
The home that was traded to Pulido was valued at the time at $430,000.  The parking lot has since been valued at $720,000.
This entire case was ridiculous.  Pulido failed to file or improperly filing required financial disclosures detailing his property ownership, the transaction with Akoubian and his subsequent sale of the house he got from Akoubian.  That was it – those were mistakes but certainly were not criminal in nature.
Pulido's opponents are now going to have to find a better reason to oppose him.  He figures to run for reelection again in 2016 and should win easily particularly if his opponent ends up being Councilman David Benavides again.