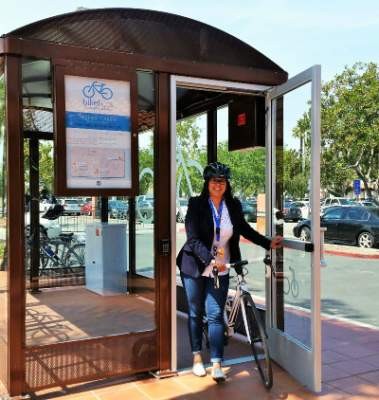 City of Santa Ana, Downtown Orange County
Community: Santa Ana Announces First Bike Huts in Orange County
At the start of Bike to Work Week, the City of Santa Ana announced earlier today that it is the first city in Orange County to install integrated modular bike huts. The Santa Ana Bike Huts offer enclosed, secure bike parking where monthly and annual members can store their bikes for the day or for a short duration. Each unit is accessible via a card reader or key code, and is equipped with vertical tracks to support/lock 12 bicycles. They are solar powered, have security lighting, and video surveillance.
Four bike huts have been installed throughout the City – two in Downtown, one in the Civic Center, and one at the Santa Ana Regional Transportation Center (SARTC). The bike huts are part the City's bicycle master plan and overall effort to improve bicycle infrastructure and increase bicycle use throughout the City.
"It's exciting to launch a program like this," stated Councilmember Michele Martinez, a long proponent for bicycling. "Santa Ana is the first city to install these safe and easily accessible modular bike parking facilities, proving our commitment to furthering active transportation," Martinez added.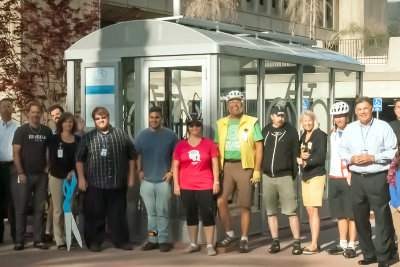 The bike huts were funded by a Federal Transit Authority Transportation Enhancements grant, a federal assistance program to support "first mile/last mile" options for individuals transferring from transit or Metrolink to places of employment or business districts.
The monthly cost is $6.00 and an annual membership is $50.00. Registration and more information can be found at: www.santa-ana.org/bikehuts .
The bike huts are provided by Orange County-based Acire, Incorporated under their BikeConnect brand (www.bikeconnect.org) and are manufactured in southern California thereby supporting a number local manufacturing jobs and services.
About the City of Santa Ana: Santa Ana, located at the heart of Orange County is home to 330,000 residents and 14,000 businesses. With over 50 city parks and recreation facilities, Santa Ana offers a superior quality of life, enhanced by a hip and historic downtown. Ranked the 4th safest city among large cities in the nation by Forbes Magazine, Santa Ana is rich in arts and culture, boasts diverse shopping opportunities and an exploding localized restaurant scene. With the top producing BMW dealership in the Western United States, top rated educational institutions and the much anticipated OC Street Car, Santa Ana is Orange County's urban center.
For full details, view this message on the web.