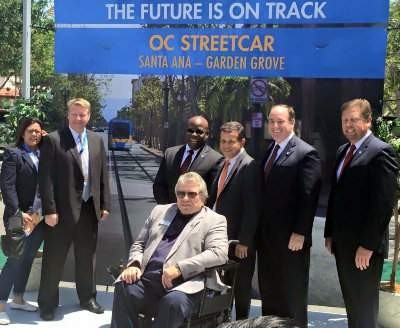 FOR IMMEDIATE RELEASE: May 11, 2015
FOR MORE INFORMATION: Joel Zlotnik (714) 560-5713; Eric Carpenter (714) 560-5697
Future is on Track for OC Streetcar Project
OCTA, city officials and community leaders gather to mark milestones toward getting the project in Santa Ana and Garden Grove operational as soon as 2019
SANTA ANA – Transportation, city and community leaders gathered at the Santa Ana Regional Transportation Center on Monday afternoon to mark a number milestones toward the construction of Orange County's first modern streetcar.
The OC Streetcar project, planned to travel through the cities of Santa Ana and Garden Grove, has advanced significantly in recent weeks. Plans for the streetcar project have been approved by city councils in both cities and received environmental clearances from the Federal Transit Administration.
The OC Streetcar, expected to be partly funded by Measure M – the county's half-cent sales tax for transportation improvements – was recently accepted into the project development phase of the New Starts federal grant program, making it a candidate for future funding.
The Orange County Transportation Authority has taken over as the lead agency to design, build and operate the OC Streetcar.
"For years, we've been talking about the concept of a streetcar in Orange County, and now we want people to know that the future of the OC Streetcar is on track," said OCTA Chairman Jeff Lalloway, also mayor pro tem of Irvine. "We're excited as we look to fulfill another promise made to the voters who approved Measure M by providing better connections between transit centers and the places where people live, work and shop."
The streetcar is intended to provide easy connections for people traveling from trains and buses to employment, retail and recreational areas in the heart of Orange County.
The OC Streetcar is planned to operate along a route just more than 4 miles, from the Santa Ana train station, through Downtown Santa Ana and the Civic Center. It would run along 4th Street and Santa Ana Boulevard. The route would continue along the Pacific Electric right of way and connect to a new multimodal transit hub at Harbor Boulevard and Westminster Avenue in Garden Grove.
"We are thrilled to see the OC Streetcar moving forward to improve transportation not just in Santa Ana and Garden Grove but throughout Orange County," said Santa Ana Mayor and OCTA Director Miguel Pulido. "The streetcar will provide a convenient and affordable way for people to travel and we expect it to serve as an economic boost to the vibrant neighborhoods along the route."
Up to seven streetcars are planned to run along the route, stopping at 12 stations. It's expected that by 2035, the streetcar would carry more than 6,000 riders a day. Initial estimates put the cost of the project at $250 million and it will be jointly funded with OCTA pursuing local, state and federal dollars.
It's expected the project will move into the design phase later this year with construction planned to begin in 2017. On the current schedule, the streetcar would begin operating in 2019.
# # #