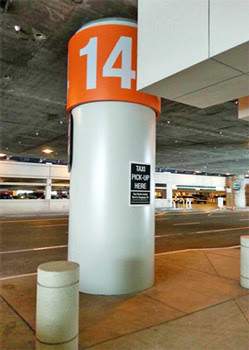 John Wayne Airport
FOR IMMEDIATE RELEASE : August 27, 2014
Contact: Jenny Wedge, (949) 252-5182 (office), jwedge@ocair.com
JOHN WAYNE AIRPORT PROVIDES LABOR DAY WEEKEND TRAVEL TIPS

SANTA ANA, Calif. – John Wayne Airport (JWA) anticipates a busier-than-normal travel period from Thursday, August 28 through Tuesday, September 2 during the Labor Day holiday weekend. More than 145,000 passengers traveled through JWA during the same period in 2013 with the busiest travel days being the Friday before and Labor Day.
Visitors to JWA during this holiday period can check the Airport homepage, www.ocair.com, for real-time flight status and the most up-to-date construction activities around the Riley Terminal. Drivers are encouraged to exercise caution when navigating Airport roadways and to follow posted speed limits.
Arrive 90 minutes to two hours before flight departure times to find parking, check luggage and go through the security checkpoint. International travelers should arrive three hours prior to flight departure times. Passengers who are members of TSA Pre-Check can expedite the screening process.

Drivers picking up passengers at the Airport are encouraged to utilize 2-hour parking spaces, located on the lower level of Parking Structures A1, B2 and C.

Color-coded and numbered columns along the white curb on the Arrival (lower) Level roadway make meeting arriving passengers even easier.

JWA Yellow Cab service is available at the Ground Transportation Center on the Arrival (lower) Level between Terminals A and B. Passengers arriving in Terminal C can call JWA Yellow Cab from the Taxi Phone in Terminal C (near Baggage Carousel 5), for pickup at Column 14 on the Arrival (lower) Level.
All access to Terminal parking is from the Departure (upper) Level roadway.

Curbside Valet Parking is available for $30 per day or $10 per hour.

Terminal Parking Structures A1, A2, B2 and C self-parking are $20 per day and $2 per hour with the first 15 minutes being free.

Off-Site Main Street Parking Lot located at 1512 Main St., Irvine for $14 per day with free shuttle service to/from the Riley Terminal every 15 minutes.
Know Before You Go from TSA and CBP
# # #
John Wayne Airport (SNA) is owned by the County of Orange and is operated as a self-supporting enterprise that receives no general fund tax revenue. The Airport serves more than nine million passengers annually and reaches more than 20 nonstop destinations in the United States, Mexico and Canada. More information can be found at www.ocair.com or at facebook.com/johnwayneairport or on twitter.com /johnwayneair.