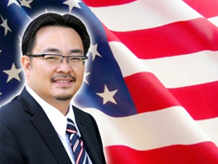 PRESS RELEASE, FOR IMMEDIATE RELEASE: Nov. 2, 2011
Contact: Jim Benson, Campaign Manager
Phone: (714) 396-6199, Fax: (800) 562-9318, Email: VoteJoe72@Gmail.com
Bring Back American Dream for Californians
JOE DOVINH declares campaign for Assembly District 72
Orange County, California: Garden Grove Planning Commissioner Joe Dovinh, announced his candidacy today for the newly redrawn Assembly District 72 which includes Garden Grove, Westminster, Fountain Valley, Huntington Beach, Seal Beach, Los Alamitos, Rossmoor, Sunset Beach, Midway City and Santa Ana. He operates a Business and Law Center in Garden Grove with his wife, Councilwoman Dina Nguyen.
"As your representative in California's Assembly, my priority will be to listen to your ideas and concerns. I will work hard to ensure that your voices are represented, your interests are protected and that Government is more transparent and accountable" said Joe Dovinh.
Joe Dovinh will fight hard to revive the American Dream for all Californians. He will be a strong advocate for the working men and women who struggle everyday to secure good jobs, healthcare and education for their family. At a time when California needs to pull together to regain its place as one of the world's top economies, an experienced businessman with an extensive community service background like Joe Dovinh will best represent the interests of the people of the 72nd Assembly District.
Joe believes that our greatest challenge right now is to put people back to work in good paying jobs. Like many of us, he is frustrated with unemployment as a fundamental problem, especially after seeing reports of millions of jobs going unfilled because of a lack of trained workers to do them. He is confident that together we can revive the American Dream for all Californians. Our goal must be to protect and create jobs that sustain middle class families so that people are able to buy their home, send their children to college, maintain health care and save for retirement.
He additionally believes that Education must be our number one priority. Without an educated work force we will lose our competitive edge for jobs in this state. The students of today are the work force of tomorrow. We must give them the tools to develop themselves. Joe and his wife have children in the public schools and recognize that improvements are needed to ensure our children receive the education they need to be successful. Joe feels that too much time is spent on testing and following multiple layers of mandates. Restoring local control, involving parents and letting teachers teach more are critical to rebuilding our education system. It is painful to see vast amounts of money spent on administration while classrooms often go without needed equipment and supplies.
On health care, Joe Dovinh believes that freedom of choice for health care should be preserved and we must ensure that we maintain dignity in providing services to seniors and the disabled. With innovative thinking and positive action, we can provide health care to all our citizens while creating new jobs in the health care sector and growing the economy.
JOE DOVINH for Assembly 2012 will launch their website www.JOEDOVINH.com soon and will keep you updated on other developments in future Press Releases.
###