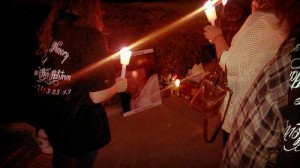 Jason Hallstrom's memorial service is scheduled for Friday, June 14th @2:00 PM at Fairhaven Memorial Park chapel.  You can leave an online remembrance here.
On March 15, Jason E. "Hoss" Hallstrom and Travis Mock, 29, were being chased by SAPD SWAT officers on I-5 when they got off at Grand Avenue and headed north, Santa Ana authorities said.  The officers in question ended up shooting Hallstrom to death, and wounding Mock.
The OCDA has not yet released their findings as to why the SAPD officers shot and killed Hallstrom.