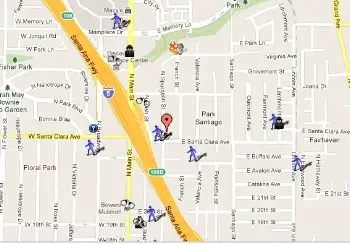 Crime Map courtesy of Spotcrime.com
I got a tip this weekend that the Santa Ana Police Department is paying for services on a website that maps crime.  Click here to check out the site, which is called "Crimemapping.com."  Their service is handy and it seems to be accurate.  Click here to see one of their detailed reports (who knew that there were 318 crimes in Santa Ana in the past week?).  But there is a catch- the information on the site may only be used by individuals, according to their Terms of Use.  That means I cannot reproduce the information here.
The real bummer is that the SAPD could have contracted with a different company, Spotcrime.com, that performs the SAME service – at no cost!  And they allow anyone to use their information.
At a time when the City of Santa Ana is beyond broke, how can they justify doing this?  And how much are they paying for another website, Citizenobserver.com?  You can register there to find out about DUI checkpoints and such, but couldn't the SAPD do this using Constant Contact or some other cheap email newsletter service?
By the way, I could not even find a link to any of the crime mapping sites on the SAPD's website…