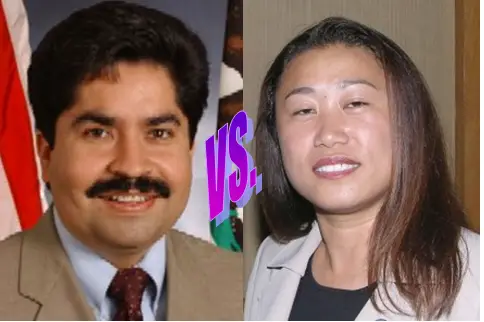 Is Supervisor Janet Nguyen trying to get rid of Latinos in her district – before Solorio challengers her in 2012?
Supervisor Janet Nguyen's imperious ways have finally done her in.  Just like that she has lost her majority on the Orange County Board of Supervisors.
"Janet Nguyen recently informed her colleagues that in preparation for the upcoming release of new Census data, she has formed a redistricting committee that includes her and Supervisor Bill Campbell. The three other supervisors, according to Nguyen's plans, would have staffers serve on the committee," according to the Voice of OC blog.
As one might imagine, this did not go down well with the other Supervisors.  John Moorlach and Pat Bates, in particular, were not too keen on Nguyen's plan to essentially ride herd on the proposed Redistricting Committee.
Bates pointed out the fact that this committee, as proposed by Nguyen, could end up violating the Brown Act.  Moorlach stated that Nguyen's domination of the committee would discourage the staffers on the committee from challenging her.
Why is Nguyen doing this?  Simple.  Supervisor Nguyen is "running for re-election in 2012 and the idea of her manipulating this process to shed unwanted Latino votes from her district must have occurred to just about everybody," according to the Friends for Fullerton's Future blog.
Now we know why Nguyen directed her stooge Thomas Gordon to support Anaheim Councilman Harry Sidhu for this year's 4th Supervisorial District race, in which Sidhu was a carpetbagger.  Shawn Nelson won that race and now he has joined with Moorlach and Bates in a new Supervisorial majority.
Even worse for Nguyen, now her Latino constituents in the First Supervisorial District know that she wants to remove as many of them from the District as she can, before her reelection campaign in 2012.
Clearly Nguyen is worried that popular Assemblyman Jose Solorio, who terms out in 2012, will be running against her.  Unfortunately for Nguyen she no longer rules the roost at the O.C. Board of Supervisors.  It is a new day in Orange County and Nguyen and lame duck Supervisor Bill Campbell, who terms out in two years, are now seated at the little kids' table…