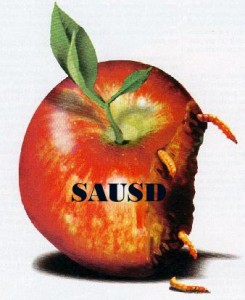 Never mind the problems at Spurgeon Intermediate.  The situation at the SAUSD is much worse.  An inside soruce tells me that there was a meeting this week for parents of elementary schoolchildren. The district wanted to inform the parents that they will be getting rid of Honors classes.  Students will either have to be in AP classes or in standard classes that will throw everyone in one room, from those achieving at the elementary level to those who would normally be in Honors classes. And this is coming our way in middle school as well.
I have supported SAUSD Superintendent Thelma Melendez de Santa Ana, since she arrived here in Santa Ana, however she seems to be perfectly willing to turn low income kids into guinea pigs for every whim in education that suits her own political and/or egotistical purposes.
Remember that survey that came out stating that teachers were 90% (or some number like that, it was in the Register recently) in favor of Common Core?  Well it was the result of a survey given to about 30 teachers at an in-service meeting.  The highest level district administrators roamed the room while the survey was given, peaking over everyone's shoulders.
It would appear that the SAUSD Superintendent has an agenda and it really couldn't be any worse than it is right now in this district.
The teacher's union president, Susan Mercer, reportedly told all of her reps that the relationship with the district has officially gone from "collaborative" to "adversarial" in the last week after multiple attempts to deal with Melendez de Santa Ana.
I am told that everyone has given up.  She does not hold to anything she states she will do and she continues to alienate the staff at many schools.
The teachers are all prepared for a big fight right now and we are going to see a lot of push back coming from them soon.
The biggest fear right now is that Melendez de Santa Ana is going to undermine the only schools that still function well in Santa Ana – our Fundamental schools.  They are now in serious danger.  She really doesn't yet know who she is dealing with as the teachers and parents involved in our Fundamental schools are not going to sit around and take it.
The district is cutting us off the Fundamental teachers at the knees in expecting them to keep disruptive students indefinitely while hundreds of kids remain on waiting lists and probably thousands of parents of intermediate kids who are now considering taking their children outside of the district, because there is no space at Mendez and MacArthur.
I have already made my decision.  My employer is moving to Irvine.  When my son finishes his time at Muir Fundamental Elementary we are out of here.  I am not going to let him sink at the SAUSD.
You have school options too:
Santa Ana has quite a few charter schools that operate independently of the SAUSD

The Catholic, Lutheran and some other Protestant/Evangelical churches operate private schools.  If you are a church member they offer discounts and scholarships
If you work in another city you can register your child in that city
If worse comes to worse you can use a relative's address, who lives in a city with a better school district, and get your child out of the SAUSD
I believe that state law also allows you to remove kids from failing schools, and we have a lot of those in Santa Ana
I have raised all of my four kids in our local public schools.  One of them is now at UCLA.  He earned the highest GPA in the SAUSD when he graduated a couple years ago.  My daughter graduated from a fundamental program at Santa Ana High School. She then graduated from FIDM and is now working in fashion design at the Gap.  I have a son at Godinez Fundamental High School and my youngest son, who I referenced earlier in this post, is a GATE student at Muir Fundamental Elementary.
My kids are all high achievers.  Our fundamental schools served them well.  Alas if those schools are now going down too, then we have to do what is right for our families and get our kids out of here. This brain drain will be very damaging to the SAUSD but clearly that is what the SAUSD's administrators and our School Board Trustees have earned. They made this mess and I don't think they can fix it.