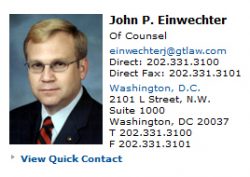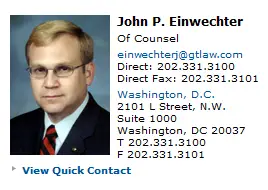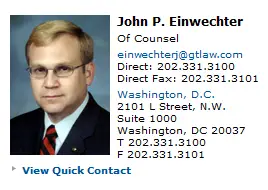 Rumors are swirling that the Congresswoman Loretta Sanchez (D-Santa Ana) could soon be walking down the aisle. Roll Call, a Capitol Hill newspaper, has received multiple tips that Sanchez recently became engaged to her boyfriend, retired Army Col. Jack Einwechter.
Who is Einwechter?  From what I have read over the years, he may have been assigned, by the Army, to act as an escort to Sanchez.  At the time he was married – and it is my understanding that he has eight kids.
Eiwechter eventually retired from the military and I found more information about him in a blog post that included these excerpts:
It has been widely alleged that Congresswoman Loretta Sanchez has been involved in an intimate relationship with her former military escort and current homeland security and defense lobbyist, John (Jack) P. Einwechter, currently "Of Counsel" at the DC law firm of Greenberg Traurig. So in the name of clearing the issue up for the many readers who come to the blog searching for the "Loretta Sanchez scandal," I thought that I would get to the bottom of it as best as I could with my research and from information from a source close to the Einwechter family, especially since there is an appearance of a conflict of interest with this particular relationship as it relates to the committees Rep. Sanchez serves on.

A source close to the Einwechter family has communicated to me that Rep. Loretta Sanchez used her position of "public power and trust to pursue a sexual relationship with a married Army officer assigned to escort her on tax-funded official overseas travel beginning in 2003." While this might not be perceived as an issue, Congresswoman Sanchez was still married at the time, as was John P. Einwechter. According to the Uniform Code of Military Justice Article 134, adultery is unacceptable conduct.

With all of the violations that one could commit in the armed forces, adultery is probably not a highly prosecutable offense, especially since the victimized spouse would have to testify against the offending partner. One can surmise that the military courts do not want to be backlogged with adultery cases, but what makes this case particularly interesting, as described by my source close to the Einwechter family is that Congresswoman Sanchez is a member of the House Armed Services Committee, which has a critical oversight role of the Department of Defense and the US armed forces. Furthermore, the UCMJ states that in determining if adulterous acts are prejudicial to good order "The co-actor's marital status, military rank, grade, and position, or relationship to the armed forces" can be considered. Serving on the House Armed Services Committee certainly connects Congresswoman Sanchez to the armed forces.

Additionally, at the time this relationship commenced between Congresswoman Sanchez and John P. Einwechter, my source says that he was still in the Army serving as a legislative counsel and later a prosecutor in the Office of Military Commissions while still married to his wife Rebecca with whom he has eight children. As a prosecutor, he was tasked with advising military justice matters, and as such, he should have been fully aware of the Article 134 provisions. To add fuel to the fire, John P. Einwechter earned his bachelor's degree from Cedarville University, a small Baptist college in Ohio. My source also reveals that Einwechter and his wife appeared to be a committed "Christian" family.

By 2005 according to John P. Einwechter's biography on the Greenberg Traurig website, he had left the Army as a prosecutor and began working at his current law firm. According to the FEC, Einwechter gave Congresswoman Loretta Sanchez $1000 in campaign contributions in 2005, split in $500 increments. His leaving the military made it less likely that anyone would look at his personal relationship with Sanchez, except for one minor thing. He chose to focus his practice on Defense and Homeland Security issues, and Congresswoman Sanchez sits on both the House Armed Services and Homeland Security Committees. Lobbying can become easier when one's significant other or spouse sits on the committees that his clients seek to influence.

Since 2005, according the lobbying profile database at OpenSecrets.org, Einwechter has represented Heckler and Koch. Heckler and Koch manufactures firearms that are used by the Department of Homeland Security, again a government entity over which Congresswoman Sanchez has critical oversight. Beginning in 2008, according to the same lobbying profile database, Einwechter has also represented L1 Identity Solutions, which provides face, palm, and iris recognition products used by the Department of Homeland Security. L1 Identity Solutions also provides products to help implement the Real ID Act. The CEO of L1 Identity Solutions is Robert La Penta, who co-founded L3 Communications, a company that makes surveillance and reconnaissance equipment for the Department of Defense and Departments of Homeland Security. L3 Communications was the third top contributor to Loretta Sanchez's campaign committee in the last election cycle.

The Protective Group is another one of John P. Einwechter's clients who he has represented since 2006. This company has been awardedcontracts in the millions of dollars for armor, aircraft and airframe structural components, and clothing to the Army, Navy, Coast Guard, Customs Service, and Defense Logistics Agency. Again, the buyers of goods from The Protective Group fall under the oversight of Congresswoman Sanchez in her role on both the House Armed Services and House Homeland Security Committee.
There is a lot more to the post cited above, which you can read by clicking here.
Einwechter's law firm bio has this to say about him:
John P. (Jack) Einwechter focuses his practice on litigation and government affairs, with an emphasis on defense and homeland security issues. He served 21 years as a lawyer and military intelligence officer in the United States Army, where he specialized in criminal and administrative law, war crimes prosecution, congressional liaison, and international law. As Senior Legislative Counsel for Department of the Army, Jack represented the Army on numerous high-profile investigations, policy and regulatory matters, and legislative initiatives. Jack represents clients in state and federal courts, administrative hearings and arbitration. He serves as Washington counsel to clients with issues before the U.S. Congress, particularly where Congressional investigations and Committee hearings are involved. He also counsels clients on matters involving government ethics and corporate political activity.
There is no proof that Sanchez is marrying this guy, just a lot of chisme.  It should be mentioned that her sister, Congresswoman Linda Sanchez, also married a defense lobbyist, Jim Sullivan.  She married him after he got her pregnant, according to the Washington Post.