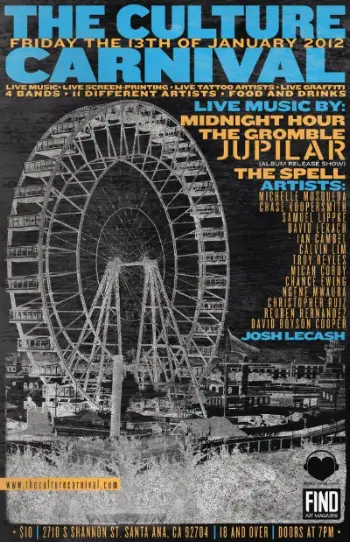 UPDATE: The organizers of this event failed to pull a permit from the City of Santa Ana.  Our sources report that the event is going to be shut down as the venue is not zoned for this use.
An art show, a concert, a warehouse party. Whatever you want to call it, it doesn't matter, because on January the 13th, from 7 pm to 2 am, there will be a building in Santa Ana filled with everything necessary for an unforgettable night. Great bands, and some of the best up and coming artists (local and international) will be on display. There will be food, there will be drink, there will be live screen printing and live graffiti being created by the best LA has to offer.
This will set a new precedent for what you expect from an event. Once you go to your first, you will always be waiting for the next.  Culture Carnival.  At 2710 S. Shannon St., in Santa Ana.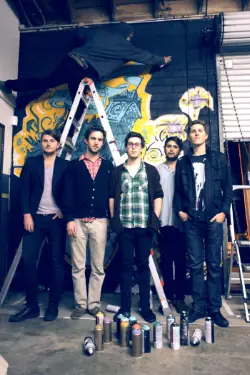 OC pop rockers The Gromble, will perform at The Culture Carnival in Santa Ana on January 13. Recently nominated for the OC Music Awards for 'Best Live Band,' The Gromble debuted their highly anticipated music video for "Creepy Crawly" on YouTube. Another track from their self-titled EP, "Cold Wolves" has also been named as the theme song for brand-new web series "Andy & Chaz Bugger Off To America," starring True Blood actor Darren Darnborough. Next, they will be featured in an upcoming issue of the LA Times: OC Edition.
The Gromble teamed up with renowned engineer John Adams to work on their full length album, out early next year. Adams has engineered several famous singers, including R. Kelly and Jordan Sparks and is also the main engineer for Yahoo!Live Sessions, working with bands like Coldplay and Mumford and Sons.  The indie pop rockers will be performing at the Music Saves Lives charity on January 13 with fellow OC band Midnight Hour.
Doors open at 7
18+
$5 PRESALE
$10 AT THE DOOR
http://micahcordy.ticketbud.com/the-culture-carnival
BAND LINE-UP:
The Spell • 8pm –
http://www.facebook.com/thespellshow
JUPILAR • 9pm – (RECORD RELEASE SHOW)
http://www.facebook.com/jupilar
The Gromble • 10pm –
http://www.facebook.com/TheGromble
Midnight Hour • 11pm – http://www.facebook.com/midnighthourmusic
Josh Lecash (DJ)• 12am